The weather is cooling down and today, it was really cold. Not as in 'cool' cold, but really 'cold' cold…whatever that means… you get the drift. But the sun shone bravely, and it was not too bad.
As I mentioned in my earlier post, something new has cropped up in my world and is demanding quite a large chunk of my time. No, it has got absolutely nothing to do with food, but more with people. The day's experiences after dealing with people from different walks of life, leaves me knackered, more mentally than physically. The people I come into contact with are from all walks of life with their own set of problems. And listening to them is like a journey into the variety that surrounds human life. It's been just a few days, but I have already started to question myself about the assumptions that we garner towards people, either by their looks, the way they dress, the way they talk and carry themselves etc. Scrape the surface, and those very individuals turn out to be so different;apearances are deceptive indeed. It is quite a humbling experience and makes me count my blessings…touchwood.
But, involved in other directions does not mean that that I have neglected the kitchen…whatever you do, you've still got to eat, right? The meals may not be very elaborate, but we are still managing to get in all those vital food groups.
The following stuffed bell peppers were a part of one such, adding a colourful, quick and nice variety to our weekday dinner.
What's needed-
5 bell peppers of mixed colours, halved and the insides scooped
2 tblsp of extra virgin olive oil
For the stuffing-
1/2 C couscous
2 C finely chopped vegetables(I used broccoli, cauliflower and carrots)
1/2 C of finely chopped red onions
2 cloves of garlic, finely chopped
1C of hot stock
a bunch of chopped coriander
1tblsp cumin powder
1/2 tsp chilli powder(more or less)
100 gms of feta cheese, crumbled
salt and freshly ground pepper to taste
How to-
Pre heat the oven at 200 deg C.
Arrange the halved peppers, cut side up, on a roasting dish and rub in the oil , both inside and outside the peppers.Place the dish in the centre of the pre-heated oven and bake for about 15 minutes or till the peppers soften slightly (do not let them wilt).
Meanwhile, in a bowl, mix together the couscous, vegetables, onions and garlic. Pour the hot stock over the mixture, cover and let it rest for about 15 to 20 minutes or till all the liquid has been absorbed.
Fluff the couscous mixture with a fork and mix in the cumin and chilli powders along with the coriander and half of the feta cheese. Season with salt and freshly ground pepper.
Fill the baked pepper halves with the couscous mixture and top with the rest of the cheese.
Return the dish to the oven and bake for another 15 minutes or till the top is nicely browned.
Serve hot with some fresh salad on the side.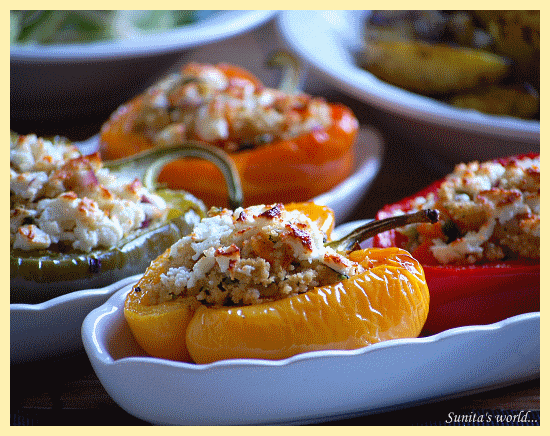 The bell peppers retained their juiciness and the filling complemented it perfectly. We had ours with some of these potatoes, steamed peas and some fresh salad for a filling dinner. Both Rengoni and Agastya absolutely loved the colours on their plate as well as counting how many vegetables there were.