Baking- I love it so much. Whisking, folding, mixing, kneading, and then putting the tray, pan, dish into the oven, pressing my nose ( ouch! that's hot!) against the see through door of the oven, taking in the aromas wafting through it, waiting with bated breath for the mixture to rise, spread, turn golden/brown, crisp; yes, I love baking.
When did it all start though? This interest, this love, this high that baking brings? Was it when I was watching my ma bake our birthday cakes year after year in that primitive contraption that we called an 'oven'? Was it all those times when I would play the part of sous chef to ma- sifting the dry ingredients, lining baking pans? I remember my first book on baking that ma bought for me when I was about fifteen, seeing my growing interest. Sadly, the book was misplaced during our transfers a few years ago, but I remember going through the pages, delighting in all those new recipes. Was it then, that made my interest grow into a passion; leafing through the pages, waiting for the weekend to come so that I could try out another new recipe? And deuta (father), trying his best to relish the slightly burnt cake as if it was the best one ever- those memories do make me smile.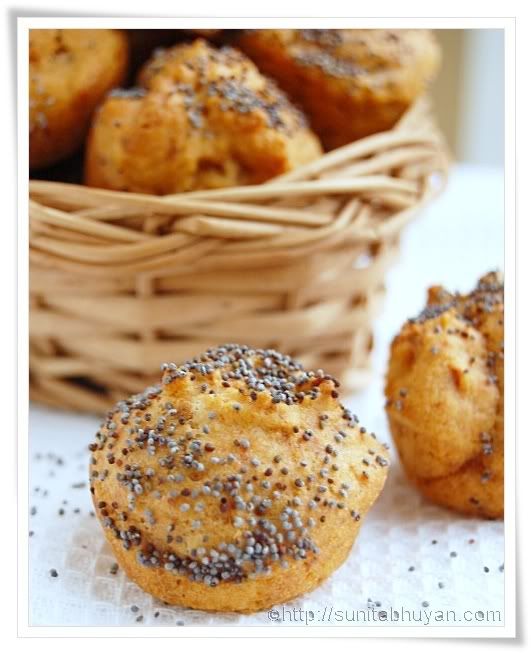 A good many years have passed since those days of a gangly teenager, many birthdays, anniversaries, celebrations have gone by. But the love? Oh yes, it's there alright. I still get the same thrill that I got all those years ago. Of course, the horizons have broadened,and I think, now, I am capable of baking a decent cake, or maybe cookies, or maybe bread, or maybe, a savory/sweet pie,and not only baking them, but also experimenting with ingredients and sharing the recipes with the world. Yes, I've come a long way since the day ma handed me that book all those years ago.
Today's recipe is also a bake.  A very simple bake, but which is very popular in our household, and they could be yours too, if you carry on reading. I made some mini savoury muffins with goats cheese and sundried tomatoes. These are a breeze to make, are ready in minutes and are little bursts of flavour. But, be warned, these mini muffins are quite addictive. The fact that more than thirty of them disappeared within a few hours, is proof of the fact. Here's how I made them-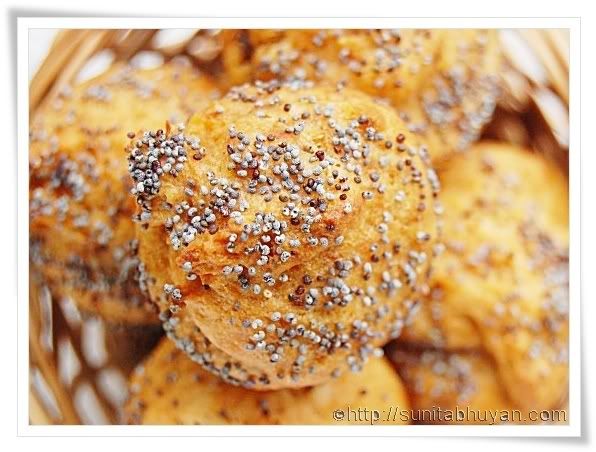 What's needed-
3/4 C whole wheat flour (atta)
3 heaped tsps of sundried tomato paste
50 gms of goats cheese
2 tsp olive oil
1/3 tsp crushed red chillies
2/3 tsp salt
1 tsp baking powder
a pinch of bicarbonate of soda
1 C of milk
a handful of poppy seeds for sprinkling on the top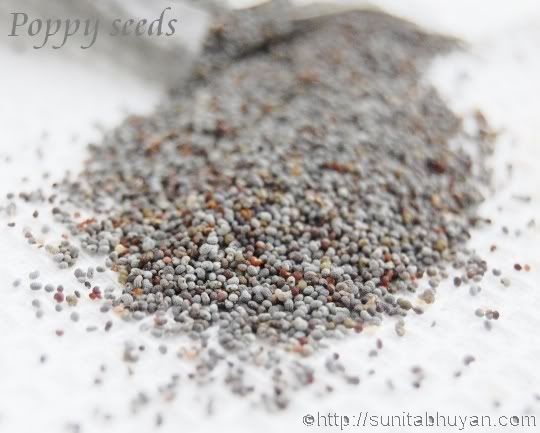 How to-
Pre heat the oven at 180 deg C and grease a mini muffin tray.
Except the milk and poppy seeds, add all the other ingredients in a bowl and rub them with the fingertips till they resemble fine crumbs.
Tip in the milk, and fold in, till everything is just moistened.
Fill the mini muffin moulds, nearly to the top ( I got about 32 mini muffins), with the mixture and sprinkle the poppy seeds on top.
Place the tray in the centre of the pre heated oven and bake for about 12-13 minutes or till the top is golden.
Let the muffins cool in the tray for a minute, and then transfer to a rack, by unmoulding them with the help of the back of a spoon. Cool completely before storing in air tight containers.
These muffins taste best when served warm and fresh out of the oven. If you do need to hold them back for later, warm them a little in the microwave before serving.
The sundried tomatoes add their flavour and a lovely hue, the chillies add a slight heat and the poppy seeds on top add a crackle. These muffins can be had as a snack ( great for kids as a healthy snack), with various dips, with soup ( like us), or just on their own. They are great fun. So, what are you waiting for? Go and mix up a batch right now, you won't be able to keep your hands off them.