I have been beaming from ear to ear, since last night, at times grinning a bit too much, like an over excited child. The reason…a successful kitchen experiment.
With the very noble aim of saving a block of fresh tofu before it's expiry date, I decided to make a very simple, but delish recipe. And what was it- after weighing various options, I decided to make the following tofu and chocolate tart with a hint of orange, in an oats crust…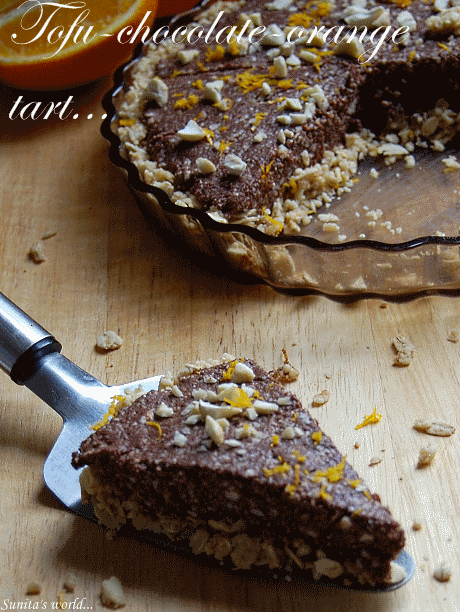 now, that's a long name, isn't it? But each and every ingredient played it's part. And the best bit is that it is an absolutely fuss free, and no-bake recipe and needs very little hands on time. And it is also relatively easy on the waist. There…how many more reasons does one need to whip up this yummy dessert !
Without furthur ado, let's head straight back to the kitchen, or more specifically, to the recipe-
What's needed-
For the crust-
3/4 C of jumbo oats
3 and 1/2 tblsp of whole wheat flour
a handful of cashewnuts, ground to the texture of coarse semolina
2 tblsp of ghee, melted together with 1 tblsp of honey
The filling-
350 gms of fresh tofu, strained
80 gms of plain chocolate, melted
grated rind of one orange
To garnish-
a handful of cashewnuts, roughly chopped
grated rind of half an orange

How to-
Mix together all the ingredients for the crust. Transfer to an 8 inch pie dish and press it down the bottom and up the sides of the dish. Cover the dish with plastic wrap and chill for 30 minutes.
Whisk together the tofu and orange rind and fold in the melted chocolate. Spoon the mixture into the chilled crust. Gently press down the filling and smooth the top. Cover with plastic wrap and chill for at least an hour.
Garnish with the chopped cashewnuts and grated orange rind.
And last, but not the least, cut into wedges and serve, and make sure it's chilled. That's it! See, didn't I tell you it was a very easy recipe

As mentioned earlier, we were left raving about this tart. The crust added a nice bite to the soft filling, and the light orange flavour in the filling came through beautifully too. Rengoni and Agastya had to be literally stopped before they carried on devouring it like there was no tomorrow. They have also booked their slices for today. Dinesh and myself relished it as well and it did not leave us feling to heavy. Talking about it has made me crave some too. Now, why didn't I make a bigger one (sigh)! But, really, doesn't it give you that extra joy when something rustled up in a hurry comes together beautifully:-)
And since we loved it so much, am sending it over to Ivy as an entry for sweet pies.
Have a great weekend !