It all started with a photo. While dusting the other day, I came upon a picture. It was in a small album along with many other albums filled with many other photographs; photographs of Rengoni and Agastya through the years, photographs of our wedding from nearly a decade ago), well, even of photographs from my childhood as well.
I put aside the dusting cloth and took up an album. Leafing through them, all those memories came flashing back. I picked up another and then another. It was as if  I had this sudden urge to go through all of them. The faces of me with my  parents, siblings, cousins, other relatives, friends, were all staring back at me. I paused, took in the first picture, then the next,and then, the next, and before long, I had spent a good couple of hours, squatting on the carpet, albums strewn all over. Some of the photos made me smile, some made me wonder, and some even made managed to make me cry. Some of the  people in those photographs, including my deuta (father) were not in this world any more; many others had moved to other places. Every photograph took to me to different locations; amazing isn't it? Moments, precious moments, and how they come flashing back?
Did I look like this? I almost forgot about that dress! How beautiful it was! If someone heard me, they would have probably thought that the best place for me would be the mad house . But, I didn't care. This was my own little precious time, lost in the years gone by, thankful for all that life has offered, thankful for all those people that I came into contact with. With all the smiles and tears that have filled the path of my life's journey, I realised that I wouldn't want to change anything. Loving parents, talented siblings, great friends, I couldn't ask for more. It would be greedy to do so!
And the journey continues, the memories are still being made; I now have a life partner to hold my hand through the rest of the journey, the kids make me smile ( and at times try my patience;-)), and I still have friends I'm glad to be in the company of. Yes, I murmured to myself for quite a while that day, squatting on the carpet, laughing and crying at the same time; and thinking  about some of the faces with whom I've lost contact, and wondering where in the world they were.
And then reality struck! Oops! The kids would be waiting for me to pick them up in fifteen minutes. I was back to the present in no time at all; a hurried change of clothes, warm clothes piled on, and I raced with my bike to their school. Phew! That's what happens when you try to get lost in the past and you've got kids to pick up from school, and chores to be done around the house

Earlier on, during the first half of the day, I had baked these beautifully moist and spongy orange and chocolate mini loaves. Chocolate and orange is one of my favourite combinations and I loved the way these loaves turned out. I was thinking of sending them over to dear Jamie who is hosting Monthly Mingle for this month with chocolate and bread as the theme. Quick breads are allowed, and so this is going to make it's way there. But, as they are making their way to a party, I dressed them up a bit. I covered the top with some dark chocolate ganache ( without cream) and topped that with some slices of grilled oranges. There! It's now ready to go to the party.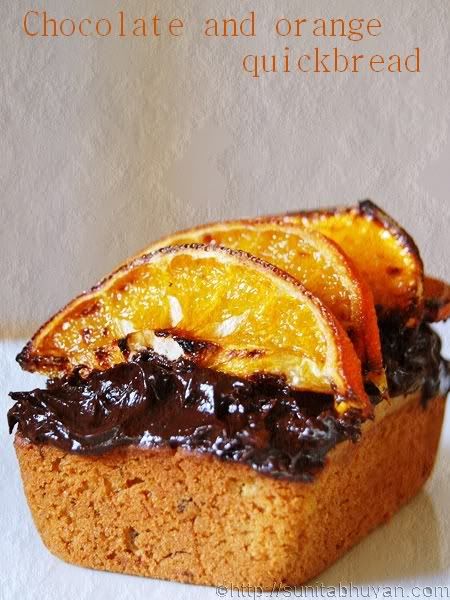 What's needed-
6 tblsp of whole wheat flour (atta)
50 gms of dark chocolate, chopped
grated zest of 1 orange
5 tblsp of fresh orange juice
4 tblsp of light brown sugar
1 tsp baking powder
a pinch of bicarbonate of soda
7 tblsp of milk
3 tblsp of sunflower/vegetable oil
For the topping-
50 gms of dark chocolate
5 tblsp of milk
For the grilled oranges-
4 slices of oranges, halved
a little brown sugar for sprinkling on top
How to-
Pre heat the oven at 180 deg C and grease two mini loaf pans (4 and 1/2 inch by 2 and 1/2 inch).
Rub together the flour, zest, baking powder and soda. Mix in the chopped chocolate.
In another bowl, mix together the milk, oil, sugar and orange juice.
Tip in the milk mixture into the flour mixture and fold in till everything is just moistened.
Divide the mixture between the two pans and tap them against the counter smooth the top.
Place the pans in the centre of the pre heated oven and bake for about  25 minutes or till the top is lightly browned. A tooth pick inserted through the center of the loves should come out clean, except for some melted chocolate.
Cool the loaves in the pan for a minute and then transfer to a rack to cool completely.

For the topping, melt together the chocolate and the milk , and stir till smooth and soft. Spread roughly over the loaves and top with the grilled orange.
For the grilled orange, arrange the slices on a lined tray and sprinkle a little sugar over them. Grill them till browned.
These loaves were a huge hit in our home, and I hope it will be in yours too. The crumb was an absolute delight and so was the topping.
Just got an email from the Foodbuzz editorial team – "Congratulations: You Made the Foodbuzz Top 9! Chocolate and orange quickbread made the Foodbuzz Top 9 today!" Thank you, you made my day!