"Mum, did you know that the 14th of February is Valentines day? Are you going to give something to dad?", asked Rengoni eagerly."Well, I don't think so. And I'm sure daddy doesn't mind, he is not fond all this fuss anyway and thinks it just a commercial gimmick". "Well", persisted Rengoni, "How about, I draw a card, and then,dad can give it to you? How about that? Hmm?" I thought it was quite sweet of her to say so. But honestly, Dinesh would probably go into one of his tirades against the whole thing. Hell hath no fury as Dinesh, reminded of Valentines day

Personally, we have no problems with this celebration at all. If people can take time away from the busy schedules to spend time with their loved ones( which is rare for some, leading hectic lives, and through no fault of theirs), what is the harm in it? But, when it is implied that so and so chocolates and flowers and so and so gifts will only do to impress their sweethearts, I would rather look the other way. By all means celebrate it, if it gives one an excuse to steal a bit more time with that special person in your life. So, why not cook a special meal for that person, hold hands and go for walks, watch a movie together, put on some music and dance , or just  do something which one would otherwise find it hard to do on other days. Make it an excuse to "be together".
But all said and done, I guess it's about whatever works best for everyone. After all, love has different definitions for everyone, so who am I to judge? As for us, on valentines day, there will be no chocolates or flowers or jewelry; there might be a swim and spa though, or a long drive or a walk, things which we really enjoy doing and are passionate about. No, we are not of the pessimistic kind, and we do make sure we tell each other how we feel, including those three, all too special words. Yes, one needs to hear those words from time to time. I know, I know, why do you need to say that you love someone when you can show it in so many ways. Well, I guess, that is our only indulgence, just a way of expressing what is already in abundance in our hearts.
But we CAN treat ourselves, can't we? And these Hot chilli macarons filled with spiced soured cream is the thing to spice up any day and add the "heat". To be honest, macarons are probably the only things that I enjoy making as much as I dislike eating them; I find them way too sweet. But, the high that I get on seeing those feet appear is probably the only thing that keeps me going and urges me to make them again and again. Call it, feeding my ego, if you want to, and I won't mind it at all

This time, however, I did have quite a few of them. They were not cloyingly sweet, as the chillies helped in diverting the attention from the sweetness.
What's needed-
1 egg white at room temperature
a pinch of salt
2 tblsp of granulated sugar ( I used raw cane sugar)
1/2 C of icing sugar
4 T of ground almonds
2 tsp smoked paprika
1/3 tsp red chilli powder
crushed red chillies, for topping
For the filling-
A few tblsps of soured cream mixed with a little paprika
How to-
Beat the egg whites  along with the pinch of salt, with an electric beater till it forms soft peaks. And the granulated sugar and beat till the mixture forms stiff peaks.
Mix together the almonds, icing sugar, chilli and paprika.
Gradually add the almond mixture into the egg white mixture and fold in till everything is well incorporated. The mixture is ready when it flows easily from the spatula from a height (  not too runny though).
Line a baking tray with parchment. Transfer the mixture to a piping bag and pipe out circles of 1 and 1/2 inches in diameter, keeping a space of at least 1 inch between them. Sprinkle a little crushed red chilies over half of the piped shells.Let them rest for at least 30 minutes to an hour or till the piped shells  feel dry to the touch.

Pre heat the oven at 170 deg C. Reduce the heat to 150 deg C .
Place the tray in the centre of the pre heated oven and bake for about 15 minutes. Rotate the tray and bake for another 7 minutes.

Let the macaron shells cool on the tray for a few minutes. Gently peel them off and transfer to a rack to cool completely.
Sandwich equal sized macaron shells together with  a little of the soured cream mixture just before serving ( or they will turn soggy).
For more tips on macaron making, refer to my notes at the end of this post.
These macarons cause quite an explosion in the mouth. You bite into the crisp outer shell and then into the chewy insides by which time the heat kicks in and is then cooled by the soured cream filling. Didn't I tell you they were HOT! You won't stop at one.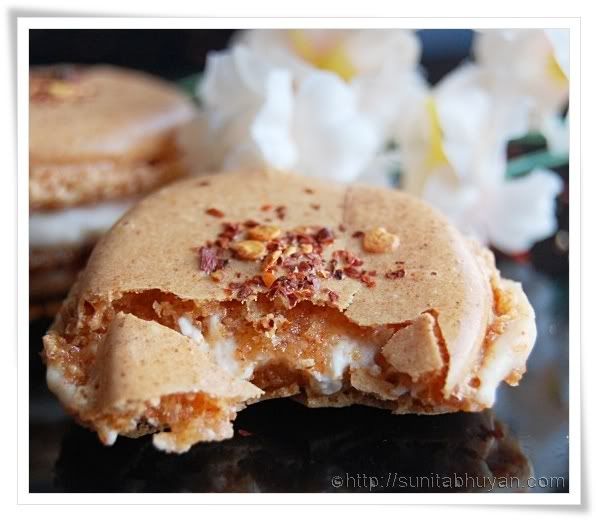 And yes, these were made for mac attack #4 where the theme is valentines day.
Enjoy!