I don't like coffee. OOPS! It is probably not the best way of starting a post with something I don't like, and trying to promote a recipe with that unloved ingredient in it! But wait, please don't run away. I don't like coffee, as in drinking a cup of coffee, but,adding it to bakes is another matter altogether.
I don't drink tea or coffee and am a teetoteller. I do receive some raised eyebrows now and then when I refuse them and mention that I don't have any at all. I tried tea just the once when I was a teenager, most probably to find out what the fuss was all about. Growing up in a house, like so many others, where a cup of tea was the first thing in the morning everybody else reached out for, I had to find out the reason as to why everyone around me was glued to it. What was it that drew everyone towards it? After all, I do come from a place(Assam) which produces some of the finest teas (Assam tea) in the world. My maternal grandparents house were near tea gardens and I loved the rows and rows of tea plants on either sides of the road on the drive to their place.  I still don't know whether that particular cup of tea was prepared badly or whether my palate repulsed it, but I've never touched another cup of tea since then. It's the same story with coffee, have never developed the taste for it. As for the alcohol, the lesser said the better. Yes, I am a bit 'wierd' like that. But, that's me, I guess. But, don't worry, I do make a mean cup of tea, so you won't be deprived if you ever happen to come to our house. Likewise for the other two.
Now, let's get back to the coffee. The other day, while walking around in the town centre, I stopped at our local Whittards of Chelsea shop, merchants specialising in English, green and herbal tea as well as gourmet and flavoured coffee. I don't know, why, but the old fashioned look of the shop was very appealing and I just popped in. On entering, I was greeted immediately with the aromas of freshly roasted coffee. I didn't like coffee, remember?  And Dinesh is more of a tea person. So, what exactly was I doing here? Well, you see, I like coffee when added to baked goodies and there were so many varieties to choose from. After a lot of looking and smelling this and that, I settled on some strong roast old brown Java. The smell was so heady, it permeated every corner of my kitchen shelves.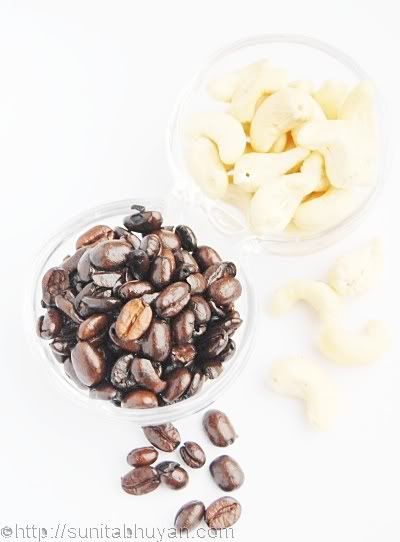 Today, I brought them out, thinking of making a cake, but decided on cupcakes instead. I ground a few of the beans and added to the batter along with ground cashew nuts. The coffee was so strong that I feared the flavour would be overpowering. Hence, I was quite cautious, in fact, over cautious, I guess. On hindsight, I could have probably added a little bit more; ah well, there's always a next time. The coffee and cashew cupcakes had a very mild coffee  flavour.
What's needed-
2 eggs, separated
5 tblsp of sugar( I used raw cane sugar)
a pinch of salt
3 tblsp of sunflower/vegetable oil
6 tblsp of whole wheat flour (atta)
1 tsp ground coffee ( I used old brown java, strong roast) * note- add a little more for a prominent coffee flavour
4 tblsp of ground cashew nuts
1 tsp baking powder
1/4 tsp bicarbonate of soda
7 whole cashew nuts for topping
How to-
Pre heat the oven at 180 deg C and line a cup cake tray ( I got seven big cupcakes from the above ingredients)
Beat the egg whites with the salt till very stiff and keep aside.
Beat together the egg yolks and sugar till pale and thick. Beat in the oil.
Mix together the flour, ground cashews, baking powder and soda. Add this mixture, gradually, alternating with the beaten egg whites, into the yolk mixture. Do this till everything is used up.
Spoon the mixture into the cupcake liners three fourths of the way and arrange a whole cashew nut on the top.
Place the tray in the centre of the pre heated oven and bake for about 20-22 minutes or til the tops are golden and a toothpick inserted through the centre of the cupcakes come out clean.
Cool the cupcakes in the tray for a minute and then transfer to a rack to cool completely.
The cupcakes puffed up beautifully and had a great crumb. And yes, I liked it too. But next time, a little more coffee will do no harm.