The nose is blocked, the voice hoarse, the forehead's hot, sneezes galore- the story of my life for the last couple of days. It was the kids' half term break last week and their mum wasn't feeling very well. What a shame! Not the very best of situations. I tried to somehow manage the day and towards the end of the day, couldn't resist slipping under the duvet. Voices, which were quite loud earlier, were now a whisper, "Are you okay, mum"? Voices riddled with concern? Oh! How I hate such days. Well, in a way, it is probably not too bad to be fussed over once in  a while, but this is definitely not the perfect situation I can imagine myself to be fussed over, in, and of course, it does ruin all those plans- plans of  getting so many things done, plans of enjoying the break with the kids. It casts such a gloom over the house hold. But then, it can't be helped. Thankfully,I am feeling so much better today and it is nice to be back to the routine and also to the oven. A  ripe banana and some pureed dried cranberries were used to make this sticky, moist cranberry and banana loaf with ginger and walnuts.
The walnuts added the bite and the ginger the spiciness. I have used jaggery to sweeten the loaf.
Jaggery or "gur"( pronounced 'goor') as it is called in Assam, is  a traditional unrefined non-centrifugal sugar consumed in Asia, Africa and South America. It is made for direct consumption. This type of sugar is a concentrated product of cane juice without separation of the molasses and crystals. They usually come in lumps or moulded shapes and can easily be found at the Indian grocers, or even in the Asian aisle of supermarkets. Jaggery ranges from mustard yellow to deep amber in colour depending on the quality of the sugar cane juice. It is sticky but an be crumbled easily. It is made up of big lumps which melt to form a thick gooey paste. Jaggery has a heavy caramel like aroma which is slightly alcoholic like sweet sherry or port. The taste is very sweet and musky. Jaggery is a rich source of iron due to the process involved, using iron utensils. It is considered by some to be a particularly wholesome sugar and, unlike refined sugar, it retains more mineral salts. Moreover, the process does not involve chemical agents.To store make sure that the container is dry or the jaggery will go mouldy. Use within 6 months. Read more about jaggery here . Regarding substitutes for jaggery, check out this link Now, lets get back to the recipe for the cranberry and banana loaf with ginger and walnuts-
What's needed-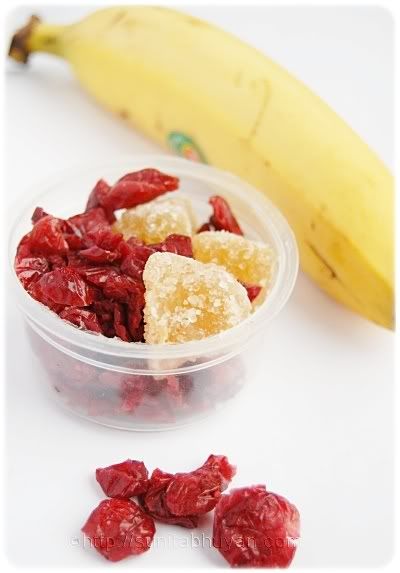 1 small banana, pureed ( I got about 4 tblsps of puree) 1 and 1/2 C of dried cranberries, soaked in 3/4 C of hot water till they soften, and pureed 5 tblsp of sunflower/vegetable oil 1 C of milk 50 gms of jaggery, grated 2 C of whole wheat flour (atta) 1 and 1/2 tsp baking powder 1/4 tsp bicarbonate of soda 1 and 4 tblsp of chopped crystallised ginger 3 tblsp of chopped walnuts How to-
Pre heat the oven at 180 deg C and line a 7 and 1/2 inch by 3 and 1/2 inch loaf pan with foil.
In a bowl, add the banana and cranberry purees, jaggery, oil and milk. Stir well and keep aside.
In another bowl, mix together the flour, baking powder, soda, ginger and walnuts and mix well.
Make a well in the centre of the flour mixture. Stir the fruit mixture well, the jaggery will have almost dissolved by now, if not, stir briskly fora little more and tip the whole mixture into the flour mixture.
Fold in till everything is just moistened. Spoon the mixture into the prepared pan.
Place the pan in the centre of the pre heated oven and bake for about 50 minutes or till the top is golden and a toothpick inserted through the centre of the loaf comes out clean.
Cool the loaf in the pan for 10-15 minutes and then transfer to a rack to cool completely before slicing.
Store in air tight containers. Enjoy the slices on their own or with some butter spread on it.
The loaf is full of fruit and nut goodness and can form a great addition to the breakfast table. Me and Dinesh had the slices on their own, while Rengoni and Agastya enjoyed theirs with some butter.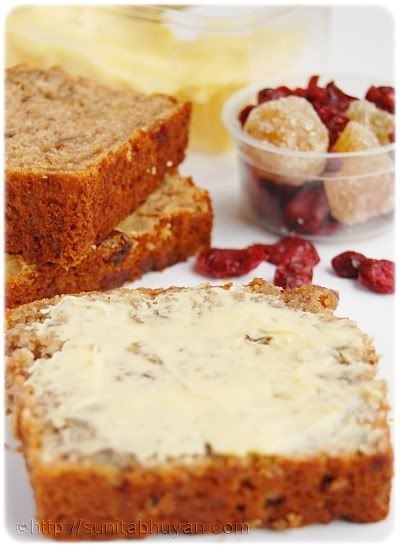 I think it tastes better the next day. I made it at night and served it for breakfast in the morning. This was stickily good!
Enjoy!!