Mmm, yummy, just another one. Perhaps not. Well, maybe a half? No, no, I've got to stop.
Wait! I haven't gone nuts…I mean I probably have, just a little bit, and it's not without reason. The culprits were the following fig and nut cupcakes.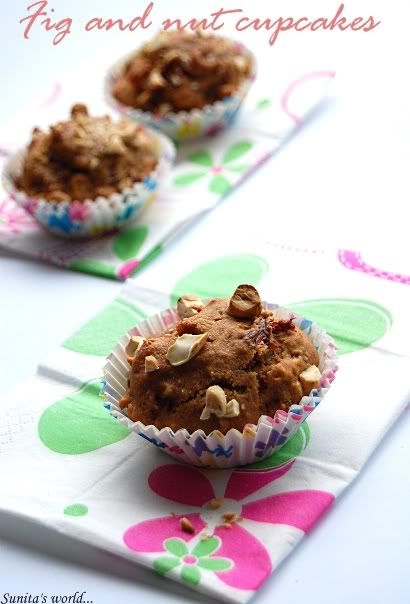 I made them a short while ago, and have been trying very hard not to finish the whole batch before the rest of the family get home. No, I'm not usually that greedy. But these cupcakes have really caught my fancy. They are moist, eggless, not overtly sweet and have got dried figs in them( I love the crackling in the mouth) and best of all, they were ready in minutes.
They 're still cooling down…better put them out of my sight

What's needed-
Chopped cashew nuts and figs
10-12 dried figs, finely chopped
1/3 C cashew nuts, chopped
1 C whole wheat flour(atta)
1/2 C plain flour
2 tsp baking powder
3 tblsp dark muscovado sugar
1C hot water
2 and 1/2 tblsp vegetable or sunflower oil
How to-
Pre heat the oven at 180 deg C and line a cupcake tray.
In a bowl, mix together the flours, baking powder, figs and 3/4 of the cashew nuts.
In another bowl, mix together the water, sugar and oil.
Make a well in the centre of the flour mixture and tip in the water mixture. Fold in.
Spoon the mixture into the lined cupcake tray (makes 12) and sprinkle the rest of the nuts on top.
Place the tray in the centre of the pre heated oven and bake for about 23-25 minutes or till the tops are firm and a toothpick inserted through the centre comes out clean.
Cool the cupcakes on the tray for a couple of minutes and then transfer to a rack to cool completely before storing in airtight containers (if you have any left )
As for the taste of these cupcakes, need I say more?I am desperately controlling myself. They are such simple beauties. Has this happened to you? I mean, I'm sure you like all your creations, but have you fallen head over heels in love with any of them? I know I have

I am even going to send this over to dear Suganya as one of my vegan ventures
Have a wonderful weekend!