This month has been such a whirlwind one. While being caught up with life, once again, another month has simply flown by. Whether I got all the things done that I meant to during this time is another question altogether. But some recent developments have definitely got me very excited. We are leaving for India in two weeks time! The trip is not going to be a very long one, but hey, something is always better than nothing, isn't it? So, since yesterday, one of my feet is probably, already in India. The very thought of meeting near and dear ones after a long time  is definitely responsible for that extra spring in my step. It was a very sudden decision, and we've got quite a few things that need to be done before that. But, yes, we are so thrilled.
And , talking about India, this months daring bakers challenge is hosted by two of my dear blogging buddies from there- The February 2010 Daring Bakers' challenge was hosted by Aparna of My Diverse Kitchen and Deeba of Passionate About Baking. They chose Tiramisu as the challenge for the month. Their challenge recipe is based on recipes from The Washington Post, Cordon Bleu at Home and Baking Obsession.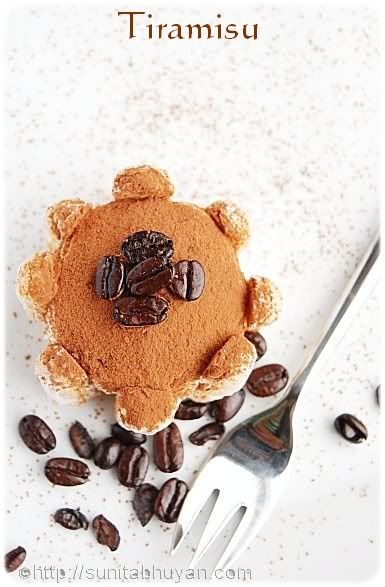 This divine Italian dessert translates to mean 'pick me up', supposedly referring to the 'kick' provided by the strong coffee, sugar and alcohol in it! Classic tiramisu is made of alternate layers of espresso soaked ladyfinger biscuits and a cream made from mascarpone cheese and zabaglione (an egg custard). The perfect Tiramisu is a balance of flavors of a sweet zabaglione, strong coffee, marsala wine, creamy mascarpone cheese and the dusting of unsweetened cocoa.
I had planned to make the tiramisu over Rengoni and Agastya's half term, but as most of you know by now, I was under the weather. I had thought of different flavour combinations too. But, instead, it was a last minute dash to the finishing line, but I'm glad I reached it in the end. To be honest I'm not really a fan of Tiramisu ( did I see a raised eyebrow somewhere), but I knew I would have takers in the form of Dinesh, so I went along anyway. After all, it was a challenge, and there is always something new to be learnt. For the challenge, we had to make home made mascarpone cheese and also the savoiardi biscuits ( ladies fingers). So, I had to attempt it.
We were given free reign regarding the size and presentation. But we had to make our own savoiardi / ladyfinger biscuits and mascarpone cheese with the given recipes. We also had to make the zabaglione and pastry cream using the given recipes.
The detailed recipe can be found here.
What I did-
I made 2 very tiny, individual portions of tiramisu.
I substituted the plain flour in the biscuits with whole wheat flour (atta), and they turned out fine. I used less flour than the given ratios due to the difference in the flours.
I stuck to the original flavours, well mostly, except that it was free of alcohol.
I made round shaped biscuits for stacking and when they were stacked, covered them with some of the extra cream mixture. Some ladies fingers were stuck on the sides and the top was dusted with unsweetened cocoa. A few coffee beans added the final touch.
I was in too much of a hurry to get everything done and then realised that I hadn't taken any pictures of the biscuits. You can see them on the sides, but not the round ones. Ah well, at least I got it made on time; at one point, I was seriously beginning to doubt it. And I felt lucky to get everything right the first time round as there was definitely no room for a second attempt.
And yes, Dinesh had a great time  and  it went down really well with him. So, it might make an appearance again. I did want to try other versions, but simply ran out of time. So till the next time, this will have to do. Thanks Deeba and Aparna for hosting.