The blog needs to be updated, and a thousand other things need to be done before we catch the flight to India on the 14th, just six days away!! Yes, as much as the fingers are trying to type the words, every time I think of the trip, the heart races and the mind is already there amongst dear friends and family whom we had left behind, years ago. The thought of gossiping ( and of course shopping) with my sister and cousins, some of whom I will be meeting after quite a few years is more than enough to set me on a high; and some very dear school friends whom I haven't seen for decades!! The thought of relishing ma's home cooking, aahh!!! Yes, I, in fact, we, are all looking forward to the trip.
We hadn't thought of going at this time of the year and Dinesh was supposed to go alone. But, we decided to tag along at the last moment; and even though we would have liked to have stayed longer, I have absolutely no complaints- something is always better than nothing, isn't it?
On the kitchen front, I made some oaty meringues today-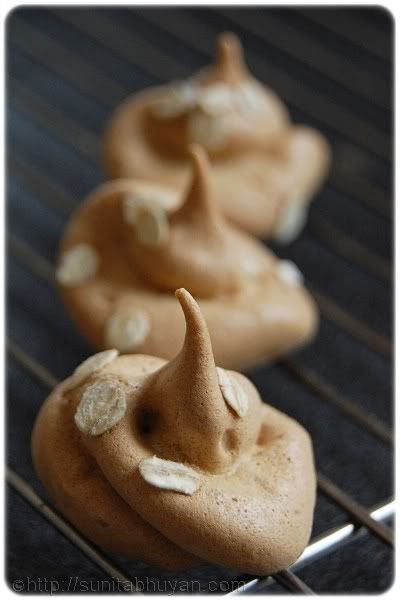 they are so easy to whip up and are low in fat. I love making them, and just realised that I've never posted the recipe on my blog. So here goes. The egg whites, dark muscovado sugar and a little oats come together to make this treat.
What's needed-
2 egg whites
4 tblsp of dark muscovado sugar/other dark brown sugar ( make sure that the sugar is not too lumpy)
4 tblsp of rolled oats
How to-
Pre heat the oven at 160 deg C and line a baking tray with foil.
In a clean and dry bowl, beat the egg whites till they form stiff peaks.

Beat in the sugar, a tblsp at a time.

Gently fold  in 2 tblsp of the rolled oats.
Spoon or pipe out circles ( I used a plastic packet snipped off at one end, and piped in swirling motions) onto the prepared tray, a little apart from each other ( I got about 37). Sprinkle the rest of the oats on top.

Place the tray in the centre of the pre heated oven and bake for about 20 minutes.
Reduce the heat to 100 deg C and bake for another 20-25 minutes.
Turn off the oven and open the door a crack. Let the meringues cool completely in the oven.
Store in air tight containers.
If the meringues soften on storing, reheat them in a 100 deg C pre heated oven for a few minutes and they will be good again.

These meringues are good on their own, but if you want to fill them, do so just before serving so that they don't turn soggy.
These are very easy to make, and went down a real treat with all of us. I had to stop Rengoni an Agastya on having too many of them. The sandwiched ones have been done so with some mascarpone cheese.
We loved them on their own, an absolute melt in the mouth, with the oats adding a little bite. And we did sandwich a few and enjoyed them too!