The suitcases have been emptied, the clothes washed, dried and put away in their original places, the house dusted, the carpets vacuumed …yes, we've come back from our relatively short trip to India, more specifically, in Guwahati, the capital city of Assam, a North Eastern state of India ( well, a visit of a couple of weeks after a gap of 3 and a 1/2 years is a short stay by our standards). Especially when there are so many visits to be made, so many things to catch up on.

The start was not a very good one as both Rengoni and Agastya were unwell; in fact Agastya remained so till almost the end of our vacation. Not good, huh? So, we did lose a few precious days and many things ( especially the shopping part) were left undone.

Gathering clouds over the fields
But all was not lost though. It was lovely to be in my ma's arms again and hug my sister; to catch up with some of my aunts, uncles, cousins who were also visiting Guwahati after a long time. Of course, there was also Dinesh's side of the family too- brothers, sister, cousins, nephew, neices, aunts etc. But, the best part has to be meeting my aita ( grandma). Rengoni and Agastya had never met their aju aita( great grandma) and were thrilled to see her in person. It was a rather  emotional meeting.
It was great to see the mighty Brahmaputra river, one of the largest rivers in the world ( Guwahati is on the southern banks of this river) again, and like always, the vastness of it managed to overwhelm me.
We even managed to escape the dust and heat of the city on a couple of short trips , one to Dekasang in Sonapur ( on the outskirts of Guwahati), an eco friendly resort( local talent and local products have been used in abundance; even the bricks are made in it's own kiln; everything created on the premises, designed by the owner himself); it also comes with a tree house, adding to the kids excitement!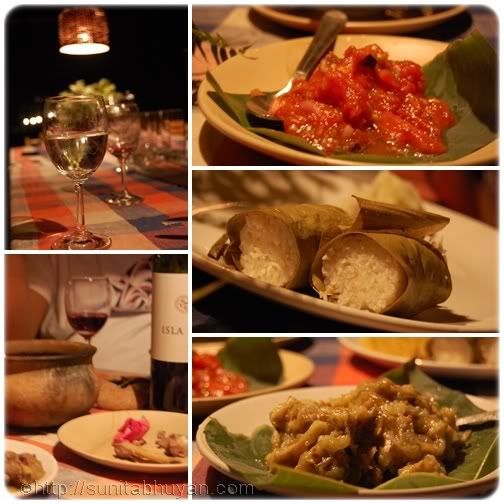 Another visit was to the Kaziranga National Park ( in upper Assam, a few hours drive from Guwahati), a World Heritage Site and home of two thirds of the world's Great One Horned Rhinoceros. The kids really enjoyed the trip to Kaziranga, exploring the grasslands atop an elephant. We set off early in the morning and managed to catch glimpses of quite a few rhinos, deer ( even a white one) and Pelicans too ( more on this later).
After all the buzz and chit chat with friends and relatives, the atmosphere now seems rather subdued, or as Rengoni says, rather "empty".


There was too much of eating, and if you do not see many pictures of the food, that was because, for once I was too engrossed in the eating and chatting, than clicking.

A view of the countryside
Rengoni recovered half way through our visit, but Agastya's loss of appetite resulting from indigestion continued, and it was only on our way back that he seemed to start eating with a vengeance. The poor kid lost so much of weight towards the end. I'm glad that he is back to his bright self again now.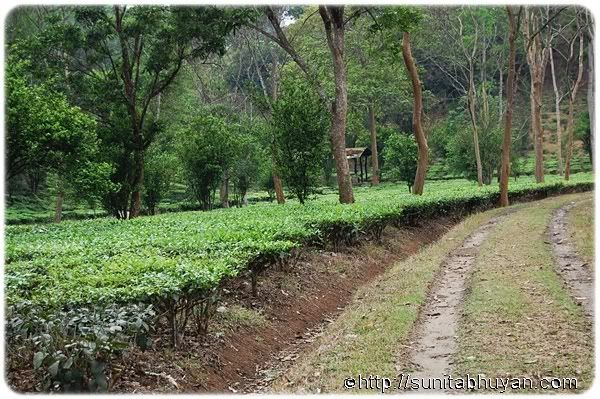 Beside one of the many luscious tea gardens- for all you tea lovers out there, this is where the Assam tea comes from

There were quite a few things that were not ticked off  the list , meeting some dear old friends were top on this list. I truly regret not being able to meet them. Sorry friends ( you all know who you are), but Rengoni and especially Agastya's ill health really prevented me from leaving them on their own.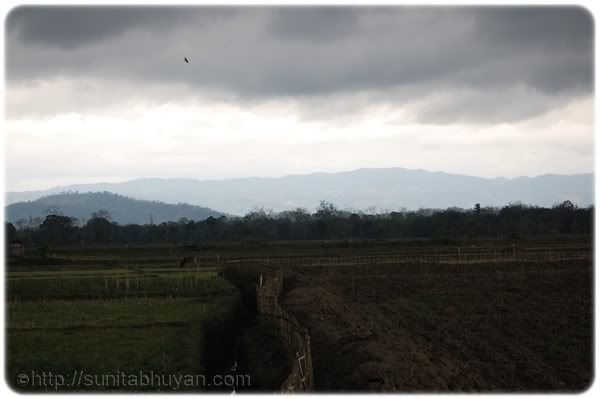 Yes, we are back, the same people, but with many more memories ( and a little heavier around the waistline

) to cherish in the coming days.

The kitchen fire has long been lit; nothing new, but hope to post something soon. Most of the pictures that I have taken during our trip are of the countryside.
There are plenty more photographs to be shared,  and I will be doing so in the coming posts.
So stay tuned. And yes, that's a promise

On another note, Rongali Bihu, the Assamese festival of spring starts from tomorrow; so here's wishing  a very happy Rongali Bihu or as we say in Assamese,
Bohag bihur shubheshya thakil!