The weather has been really pleasant fort the last few days- clear blue skies; white , fluffy clouds floating across them; the gentle breeze touching the skin, but not making us shiver. Not hot, not cold, but just right. Although, I might have to eat my words soon, as today doesn't fit the above description too well and the sun is struggling to live up to the glory that we had almost gotten used to in the last few days. Perhaps, there are still a few days to go for that 'perfect'  beach weather.
Yesterday, was a picture perfect day and we made the most of it, driving through our lush Suffolk countryside, stopping now and then, to take in the beautiful landscape . A stop at a local farm seemed just right and we took a lovely walk along the farm trail. A day well spent, I say.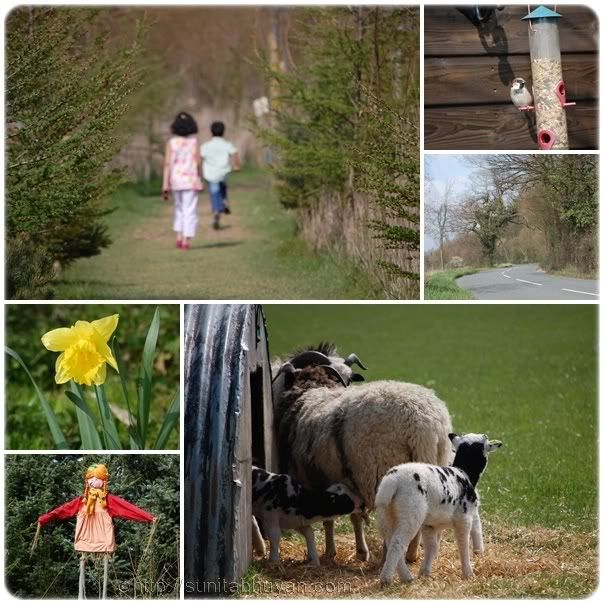 We came back to enjoy these simple lemon cakes drizzled with lemon icing that I had made earlier. Light and refreshingly good, these cakes were gone in minutes.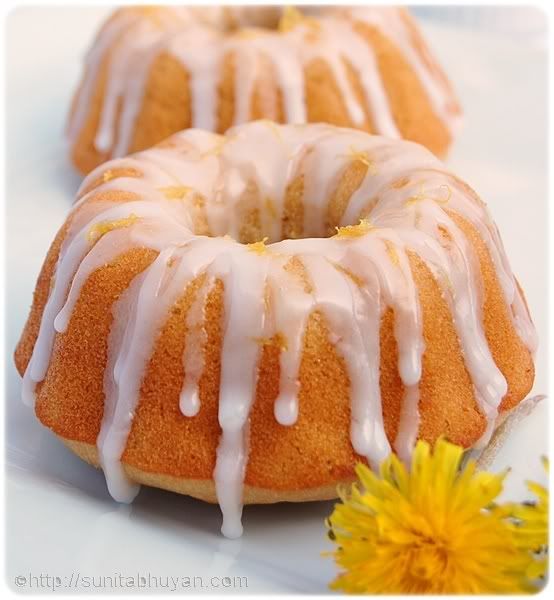 What's needed-
grated zest of 1 lemon
1/2 C +2tblsp of whole wheat flour (atta)
1 tsp baking powder
1/4 tsp bicarbonate of soda
1/2 C + 2 tblsp of milk
4 tblsp of sunflower/vegetable oil
4 tblsp of raw cane sugar ( you can use the normal sugar too)
6 tblsp of lemon juice
For the lemon icing-
Mix a few tblsps of icing sugar with a little lemon juice to make a free flowing icing
a little lemon zest for sprinkling on the top of the icing (optional)
How to-
Pre heat the oven at 180 deg C and grease two 4 inch bundt pans.
Ina bowl, place the flour, baking powder, soda and zest in a bowl and rub in with the fingertips.
In another bowl, whisk together the milk, oil and sugar.
Make a well in the centre of the flour mixture and tip in the milk mixture. Fold in.
Add the lemon juice and fold in.
Spoon the mixture into the prepared pans and tap against the counter.
Place the pans in the centre of the pre heated oven and bake for about 25-28 minutes or till the top is lightly golden and a toothpick inserted through the centre of the cakes comes out clean.
Cool the cakes in the pan for a few minutes. Gently remove the cakes and place them upside down on a rack and cool completely.

Drizzle the icing over the cakes and sprinkle a little zest, if adding any.
These cakes had lemony goodnesss in every bite. The only complaint- there should have been more