I think I might have a kind of split personality at times, especially while cooking. Sometimes I can't really understand whether I really do have all that patience or not. Take a cake, for instance. I can sit up all night decorating one if need be. The same goes for quite a lot of things; bread making, being one of them too. I have all the patience to knead, wait for the dough to rise, knead again, shape, let rise again, stuff, if needed, top, bake, cool, and whatever else might be involved with it. And the same goes for quite a lot of other dishes too.
But when it comes to making jams and spreads, I don't really seem to have any patience. When we came across some gorgeous oranges the other day, the heart said "marmalade" and we brought home more oranges than usually needed; remember the grand design? I have never made marmalade before, and from what I've read, all that sieving, peeling, slicing seemed too much of a bother. It's been quite a while since we bought those oranges and snide remarks have fallen on my ears, every time waived away with a ready excuse.
After saving the oranges for my plan, I couldn't afford to go back on my word. There's got to be some easy way out. Inspiration came in the form of a recipe from here ( the link for the origial recipe does not seem to be working) and with a wide smile plastered across my face, I set about transforming the  oranges into what they were planned for. Some chopping, grinding and boiling, and, tadaa! Ladies and gentlemen, may I present my version of an easy peasy ginger and orange marmalade recipe. The original recipe did not have ginger, but I added some and did not regret it at all-
What's needed-
9 oranges, cut into small pieces ( discard the seeds and keep the rinds on)
4 and 1/2 C of sugar ( I used raw cane sugar)
juice from 1/2 a large lemon
1/4 C of crystallised ginger, chopped

How to-
In a food processor, grind together the oranges and ginger until slightly coarse.
Place the orange mixture along with the sugar and the lemon juice, in a deep, thick bottomed pan. Place the pan over heat and bring the mixture to a boil. ( Watch out, for there is going to quite a lot of splattering throughout) Stir occasionally.
Continue for about 20 minutes .
Transfer to jars and let the marmalade cool completely before putting the lids on them.
Refrigerate and use as desired.
Notes- I had boiled mine for longer than 20 minutes, nearly 1/2 an hour, and it ended up very thick on cooling. The taste was still good and I warm it in the microwave if I want it to soften to a spreadable consistency.
Marmalade on toast is not very popular in our household, but it definitely comes in handy while cooking and baking. I have used it in the steamed marmalade sponge puddings for last month's daring bakers' challenge and it lent a lovely flavour to them.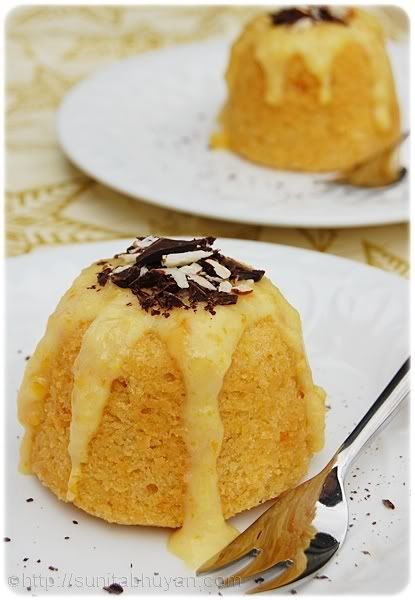 I am working on some other recipes with it, so do keep an eye on this space!