Hello everyone, hope all of you have had a very refreshing weekend. Ours was a good one with lovely weather, friends and great food.
The picture below is of a cake that I baked for one of our friend's li'l girl's first birthday.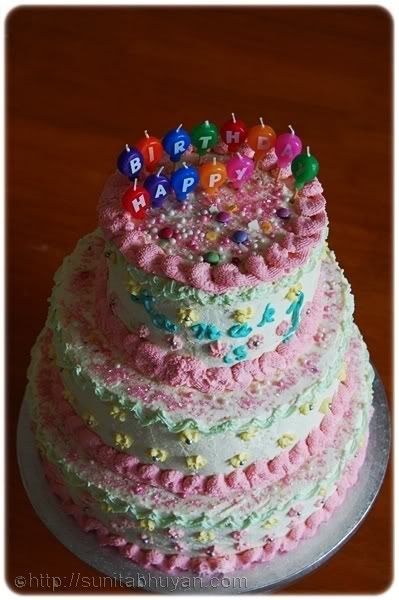 They did not want chocolate, wanted it to be decorated with whipped cream and I was told the number of people it was to be made for. Apart from that, I was given free reign. I am used to baking cakes for special occasions, but they were all ours. This was for someone else's li'l girl. And as much as I was honoured to have been asked to bake the cake for her special day, I can't deny the tinge of nervousness that did creep in. I decided to make a large three tiered cake. I kept it simple and reverted to my trusted recipe from this lemon sponge, substituting the lemon with orange and leaving out the almonds (just in case anyone was allergic to nuts). Nuts add their own oils to a cake, so instead of the nuts, I rubbed in about a tsp of oil into the flour. I also increased the amount of flour by 2 tblsps.
The bottom layer was a 10 inch cake , the middle layer an 8 inch cake and the top layer was a 6 inch cake. Each cake was first cut in half and filled with whipped cream ( double cream + sugar whipped till stiff). The sides and top were covered with cream before placing them on top of each other. I kept the designs simple with piped borders and flowers.  The mom and dad loved it , and the guests did make a beeline for it, which can only be a good thing , right?