I forgot," royally", this time. It's the 27th and I haven't made my Daring Baker's challenge. Somehow, something made me feel that I wasn't due to post till next week. And then today, on returning after a nice long ride on the bike in the morning, and switching on the computer, I saw the challenges being posted around the blogosphere, and panic struck! Today is the 27th !!!??? But, fortunately, it was followed by a deep breath and prompt entry into the kitchen. Going through the given challenge also confirmed that is was easily doable. A rummage through the fridge and shelves, and I sort of had an idea of how to go on about it.
The April 2010 Daring Bakers' challenge was hosted by Esther of The Lilac Kitchen. She challenged everyone to make a traditional British pudding using, if possible, a very traditional British ingredient: suet.
The  required elements of this challenge are:
1) to make a suet pudding using real suet or as close a replacement as you can manage or is acceptable to you; and
2) to cook it by steaming or if you want to be even more traditional by boiling tied up in a cloth.
The two basic types are a suet crust pudding with a filling or a suet sponge pudding. I decided to go for the sponge pudding. Living in the UK, we've been exposed to the typical British steamed puddings a lot; specially during Christmas time, and I must admit that I'm not really a fan. I wanted to keep my sponges light. The rummage in the kitchen revealed the thick orange marmalade that I had made a couple of days ago ( recipe to follow in the next few days) and I knew what flavour I wanted my pudding to be- orange.
The recipe for the sponge is my own. We were allowed to substitute suet with butter and that was exactly what I did. I wasn't particularly feeling daring enough to use suet, which is is raw beef or mutton fat, especially the hard fat found around the loins and kidneys. I steamed my puddings in my electric steamer.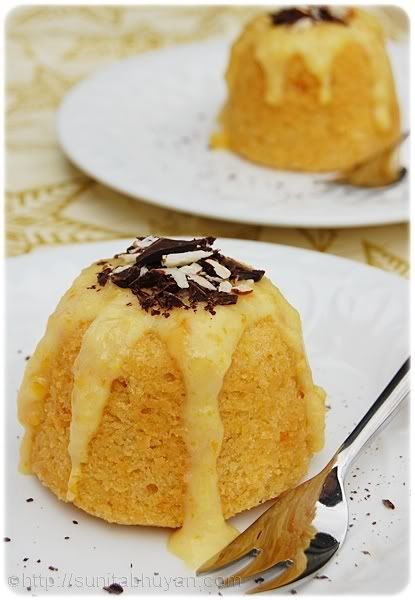 The following is my recipe for the marmalade sponges-
What's needed-
2 eggs
5 tblsp of sugar ( I used raw cane sugar)
6 tblsp of marmalade
4 tblsp of whole wheat flour (atta)
3/4 tblsp of baking powder
3 tblsp of milk
2 tblsp of butter
How to-
Beat together the eggs, sugar and marmalade till pale and fluffy. Add the butter and beat a little more. Mix together the flour and baking powder and beat it together with the rest of the mixture till smooth.
Grease 3 mini pudding moulds or ramekins and divide the mixture between them.
Cover the bowls loosely with pieces of foil and tie a string round the necks to secure them.
Place the bowls in the lower container of an electric steamer and steam for about 35-40 minutes or till a skewer inserted through the centre of the puddings come out clean (** if you do not have a steamer, the same can be done by placing the covered bowls in a large roasting pan filled with hot water that comes up to about 3/4 the height of the bowls and placed in a pre heated oven till cooked; alternately,you can also use a pan large enough to easily fit the bowl you are cooking. Don't fill the water more than about a third of the way up the bowl or it may boil over and into the bowl. Keep an eye and top up as needed with boiling water.)
For the topping-
Beat together some marmalade and double cream to make a pouring consistency and drizzle over the sponges. Sprinkle a little chocolate shavings and chopped nuts ( I used almonds). If you want to keep it even simpler, just drizzle a little cream over the sponges.
I thoroughly enjoyed making this dessert and am sure to make it again. Thanks for hosting, Esther.
I must say that this has got to be my quickest daring bakers challenge ever. Everything, from the cooking to photographing to posting was done in a little over 2 and 1/2 hours! For once , it was nice to have a challenge that did not need sweating over. The sponges were as 'spongy ' as ever and the topping added a little richness, without going overboard. It was a nice, light dessert, and if you, like us, love oranges in your bakes, this is just the thing for you! I tried it and loved it, and going by the taste buds of the rest of the family, I'm sure they'll love it too.
Enjoy!