We have very mixed reactions whenever aubergine makes its appearance at the eating table. Me and Dinesh have no problems with it at all, as we've always loved this purplish vegetable. But Rengoni and Agastya do the typical "do we really have to have it" and all the drama that follows with it. I guess, they judge it just by it's appearance and already decide that it is not going to taste good. To be honest, we do not have it very often, but that has been changing recently and its making more frequent appearances in our shopping trolleys.
A few years ago, if the kids did not like any vegetable, I would do the usual 'disguising' of the vegetables and hide my grin when I see them relishing something they 'do not like'. Sometimes, I would try to avoid answering the "what's in it?" question, by 'forgetting' the name of the ingredient at that precise moment. But, gradually, I came to realise that this would not work very long. I wouldn't want them to grow up being suspicious of every plate of food that is placed before them.
Now, that they are growing up, I want them to enjoy their meals, know and appreciate the ingredients that have gone into a dish. So, no more 'forgetting' ; if asked, I 'remember' and tell them exactly what's on their plates, asking them to give it a go ( after all, that's what they are going to get anyway). And I must say, I have been pleasantly surprised.
To be fair on both of them, they do eat their share of vegetables. They do not turn up their nose at cabbage, broccoli or cauliflower, bell peppers and a host of other vegetables. But, I guess, me being me, whenever they say that they do not like something, I begin to fret. So, the aubergine has to grace the table quite frequently. And no more 'hiding' and 'disguising' and 'forgetting'. They know exactly what's going into their mouths, no need to be suspicious any more! And yes, the aubergine seems to have gradually gained a place in their hearts ( take that as no screwing up of the faces); haven't sat down very comfortably yet, but, I'm working on it, and we're nearly there.
The following recipe for aubergine melts has been adapted from this recipe. It is very easy to make, perfect for a light summer meal with some green salad on the side.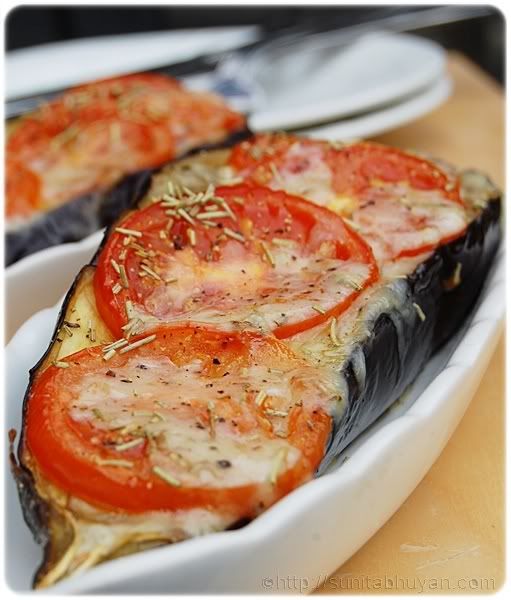 What's needed-
1 aubergine, washed, wiped and halved vertically
2-3 tblsp of olive oil
2 cloves of garlic, thinly sliced(not in the original recipe)
2 small tomatoes, sliced into thin circles
1/2 C ( more or less) of small cheddar cheese cubes ( the original recipe uses mozzarella)
2 tblsps of dried rosemary ( not in the original recipe, which uses basil)
salt and freshly ground pepper to taste
How to-
Pre heat the oven at 200 deg C.
Arrange the aubergine halves, cut side up on a baking tray. Make diagonal cuts on the flesh ( make deeper cuts in the thicker ends). Season with salt and pepper.
Arrange the slices of garlic on top and drizzle the olive oil over the aubergine halves.
Place the tray in the centre of the pre heated oven and bake for about 25 minutes or till the aubergine flesh softens.
Arrange the tomato slices on top, and dot with the cheese cubes. Sprinkle the rosemary and add some freshly ground pepper.
Bake for another 5-6 minutes or till the cheese has melted.
Serve hot.
Your kitchen will smell heavenly as this bakes. This was a simple, yet  lovely dish, which, as I mentioned before, goes well with some green salad on the side, for a lovely, summery meal. On one occasion, I have also chopped them up after baking and added them to some pasta.  And yes, this went down very well with all of us.