Hello everyone! Hope all of you have had a refreshing weekend. Last week was half term for the kids, and so, haven't been able to update the blog as much as I would have loved to. But, thanks for dropping by and leaving your marks; highly appreciated.
But there's no half term in the kitchen, its' as busy as ever; with ever hungry kids around, what do you expect? Now I adore experimenting with food, trying out new flavours, throwing random ingredients together. But, ever so often, I want to replicate all those dishes that I grew up on. The ones that I've seen ma make for us. Sometimes, those cravings die an early death, due to the lack of ingredients. But, at other times, a quick rummage through the cupboards reveals everything that is needed to whip up that dish, the taste of which still lingers in the mouth.
The following recipe for bootor dali ( chana dal/split chickpeas dal) is what we had for our lunch yesterday. This is how my ma used to make, a thick dal to be scooped up with poories( deep fried puffed Indian breads) or rotis (an Indian flatbread); usually it is the latter. In the picture below, the dal looks quite thick, but I had actually made it a bit thinner. This was the last little bit left, it had turned cold,and had thickened some more. Just mentioning this in case you do not see yours resemble mine as soon as you've finished cooking.
Ma added a little masur dal( split red lentils) as well. The red lentils cook faster than the split chickpeas, and helps in thickening the dal. Here's how I made it in my kitchen, trying to remember how it was done in my ma's.
What's needed-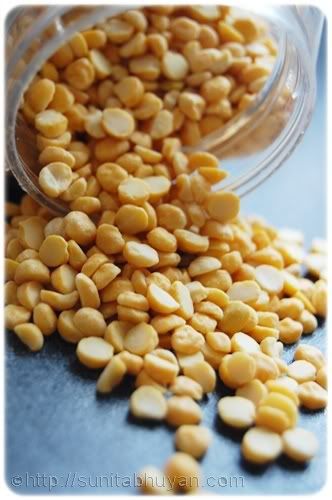 Bootor dali/chana dal/split chickpeas
1 and a 1/2 C bootor dali( chana dal/split chickpeas)+1/4 C masur dali ( split red lentils), washed and drained completely
1 small onion, chopped
2 large cloves of garlic, peeled and chopped
1 inch piece of ginger, peeled and chopped
1 green chilli, the stalk removed and slit half way from the thicker end
1 level tsp grated jaggery/sugar
1/2 tsp turmeric powder
2 tsp cumin powder
1 tsp garam masala powder
2 tsp sunflower/vegetable oil
salt to taste
2 tblsp of chopped coriander+ a little extra for garnishing
hot water
for tempering-
1 tsp cumin seeds
1 whole red chilli, halved
1 bay leaf
How to-
Make a paste of the onions, ginger and garlic together.
Heat oil in a pan and add the ingredients for tempering.
Add the onion-ginger-garlic paste along with the turmeric and cumin powders. Stir constantly till the mixture thickens and most of the moisture has evaporated.
Add the mixed pulses, jaggery and the green chilli and stir till they are nicely coated with the spices and start to brown.
Add the water up to an inch above the rest of the ingredients and bring to a boil. ***Transfer the ingredients to a pressure cooker and close the lid. Reduce the heat to low. Cook for 4 whistles.
Remove from heat and let the pressure subside by itself  before opening the lid.
Place over heat. Add the garma masala and the 2 tblsp of chopped coriander. If the mixture has thickened too much, add a little more water. Bring everything to a boil and remove from heat.
Serve hot with some Indian flat bread and a fresh salad. Garnish with a little chopped coriander .
***If you do not have a pressure cooker, cool the dal in the pan itself. Cover and reduce the heat to low, checking every now and then till cooked.This will take a little longer than the pressure cooker. If the water evaporates before the dal is cooked, add more water.
We had ours with some roti and a fresh salad. This was supposed to be a simple, comfort  meal after days of over eating. But, to be honest, we ended over eating this time too!

Take care everyone, hope to come back with something else soon !