The football fever? Yes, like millions around the world, the World Cup bug has hit our household too, complete with shouts and groans, and yes,very loud at times ( actually, most times).
Dinesh and Agastya have been hit by the bug for real. Dinesh has always been a great fan of football, and the World Cup has brought it out to the fore front even more. And he has been joined, this time, by Agastya. Time does pass by. Watching both of them yesterday, my mind flew back to the World Cup of 2002, when Rengoni was just a few months old.
For some reason, Rengoni was playing up that day and I was just coming  after, finally, having put her to bed when, suddenly, I hear, 'GOAL!', and if I could make the bold writing any more bolder, I would probably do that, many times over. Well, what perfect timing; and little Rengoni who woke up with a jump, was howling away, as my super annoyed eyes met a very sheepish Dinesh! At least, this time around, he's got a partner in crime in Agastya and of course, no little babies around. As for Rengoni and football, they couldn't be more apart from each other.
When I was younger, you know, when Maradona was in his hey day, it would be my Deuta ( father) and dada (older brother) who would let out those screams and groans every now and then. Deuta, himself a player in his hey days, would help me understand the game, not that it did much good though! I still know just the basics though!

As for myself, although I'm not a great football fan, the lover of sport in me, can't help but get caught up in all the madness. Not as much as Dinesh though; he's the resident footie fan! I watch a little and then, I return to the kitchen and bake! The following eggless banana cupcakes with soured cream frosting is the outcome of one such trip to the kitchen.
What about you? Have you been caught up in all the football madness? While you think about  that, here's the recipe for the cupcakes-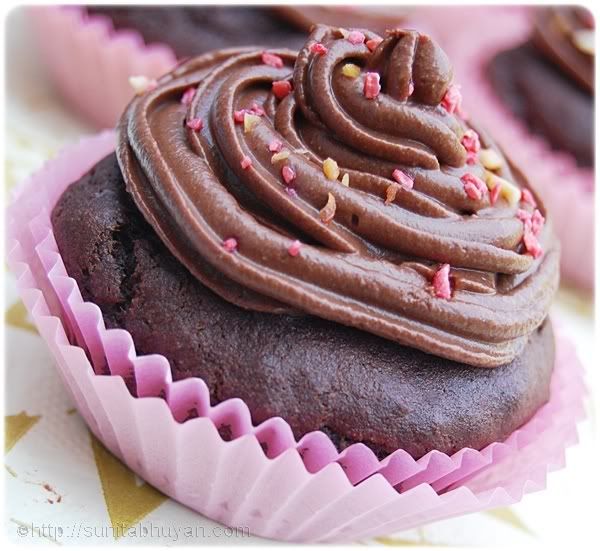 What's needed-
1/2 C +3tblsp of whole wheat flour (atta)
5 tblsp of cocoa powder
6 tblsp muscovado sugar ( or other dark brown sugar)
1 and 1/2 tsp of baking powder
1/4 tsp bicarbonate of soda
5 tblsp sunflower/vegetable oil
6 tblsp milk
1 medium sized ripe banana
For frosting-
150 ml of soured cream
70 gms dark chocolate, melted and cooled
How to-
Pre heat the oven at 180 deg C and line a cupcake tray.
Puree the banana along with the sugar. Mix in the milk and oil and keep aside.
in a bowl, mix together the flour, cocoa powder, baking powder and bicarbonate of soda.
Make a well in the centre of the flour mixture and tip in the banana mixture. Fold in to form a thick batter.
Spoon the mixture into the cupcake liners ( makes 10-11). If you do not want to frost the cupcakes and would like to add some nuts instead, now is the time to sprinkle them on top.
Place the tray in the centre of the pre heated oven and bake for about 20 minutes.
Transfer the cupcakes to a rack and cool completely before frosting.
Mix together the cream and the chocolate, and whisk thoroughly. If you like it sweet, add a little sugar. Transfer to a piping bag and pipe on top of the cupcakes. I also scattered a little pink praline on top.
These are very moist cupcakes. I eve left a few of them plain and those were received with equal enthusiasm.