It's amazing how inspiration comes in handy at the most unexpected moment. There I was, home alone, nose clogged, head throbbing, body aching, and tummy rumbling. Lunch time was approaching fast, and I had almost made up my mind to pass it by. There were no leftovers, and the contents in the  refrigerator were not very inspiring. There was nothing I could make very quickly.
And then, as I  opened a cupboard, my eyes fell on a pack of whole wheat spaghetti. Hang on a minute! I headed back to the refrigerator- there were chillies, and basil. And there were also some mushrooms. Outside,there was garlic. Hmm, might work out after all.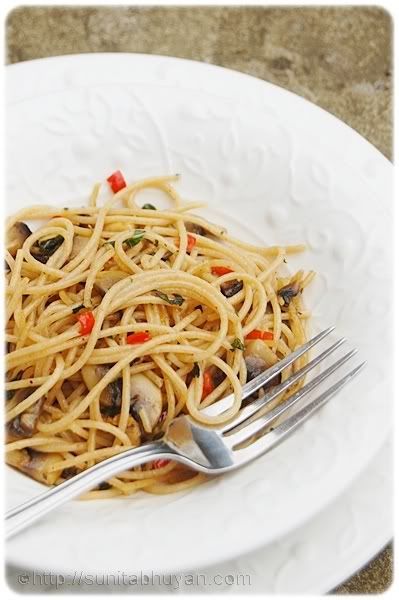 You see, a couple of days ago,I caught Gino d' Acampo rustling up this very simple and quick pasta dish with just olive oil, garlic, chilli and parsley. Cooked pasta was tossed in a pan pf shallow fried chillies, garlic and parsley. I thought it looked quite attractive at the time, but, then, I forgot about it. Until today. I had no parsley, so some basil were summoned to fill in the place. I also wanted it to be a little more filling, so added some mushrooms as well. In a few minutes, I was curled up on the couch with a bowl of flavourful pasta. Life seemed so much brighter!
Good food does make one feel so much better, doesn't it? See, it even made me remember to take a few quick photos of the dish too!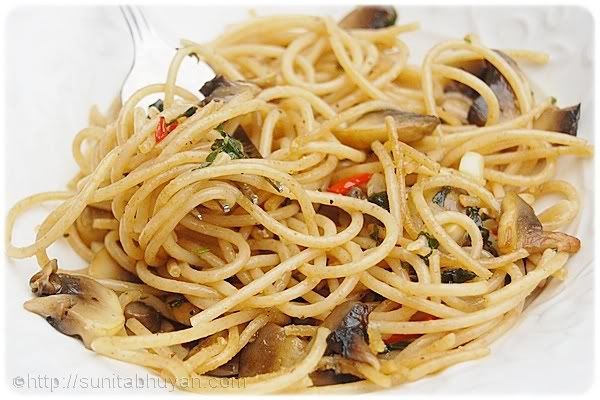 And I can't wait ot share the recipe with you either. So, here goes-
What's needed (for 1 person)-
100 gms of wholewheat spaghetti
2 tblsp of olive oil
1 small medium hot chilli, deseeded and finely chopped
1 clove of garlic, finely chopped
a small handful of basil leaves, finely chopped
2 closd cup mushrooms, sliced
salt + freshly ground pepper to taste
How to-
Cook the spaghetti in salted water till al dente ( firm to the bite)
When the spaghetti is nearly cooked ( last 2 minutes), heat the oil in a pan.
Add the garlic, chilli, basil and mushrooms and cook till the mushrooms soften.
Drain the pasta and add to the pan; doesn't have to be too dry, and in fact, a little moisture helps.
Stir well so that the pasta is well coated with the flavoured oil. Season with salt and freshly ground pepper.
Serve immediately.

There! A simple and quick dish, full of flavours.
Now, let's see what I can make for dinner! Have a great weekend everyone!