I coughed, deeply, rolled my eyes, frowned so much that I was in danger of leaving a permanent one on my forehead. I really tried everything to catch his eyes, and then my eyes glared back at him even more, the head shaking furiously from side to side.
We were sitting around the kitchen table, the four of us, enjoying our breakfast, on Saturday. As usual, there was talk, the occasional squabble between the kids, the discussions on various topics. Yes, it was a regular weekend morning. So, what brought up all those facial expressions? You see, during the course of the breakfast, somehow, the topic changed to vampires, to which, Dinesh said ' but you do know that vampires are not real? " and then a discussion on that started. So far, so good.
Then, Dinesh got a bit carried away and began to say "Do you know, even the concept of Santa is not that old!" My jaw dropped. Why did he have to say that? And Rengoni, always quick to pick up on such things said, "then, how come you said that Santa's always been there?" And Dinesh was about to explain, when those furious facial expressions that I have mentioned in the previous paragraph took place. No way, was I going to let Dinesh"enlighten" them with his "facts", so, the topic was quickly swept off the track. Phew! Disaster averted!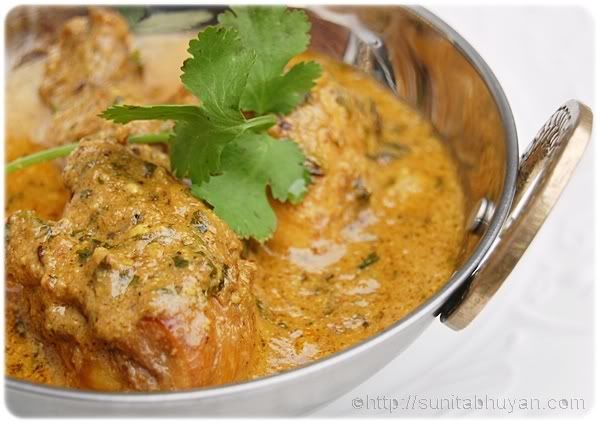 The above incident made me think. What made me act so? Why did I not want the kids to know the "facts"? Because they would stop "believing"? What would happen then? Probably nothing. After all, aren't they going to find out one day, anyway? In fact, since last year, Rengoni has already started asking questions after Christmas, and every time the 'tooth fairy' pays a visit to our hoiuse. "Is there really a tooth fairy? Are you sure , that it is not you or dad who puts the money under the pillow?" To which, I always say something else or somehow duck the question. But, for how long? She is nearly nine and Agastya will follow suit too. Is it that I still want to hold on to their innocence? So, when do I tell them? Is there any such thing as 'the right age' ?
What would you do? When did you stop 'believing' ?
On to the food, later that day, I made this delicious, slightly rich chicken curry. It was another of those "put together" curries, where ingredients were being added on the spur of the moment with a satisfying outcome. The plan was to make the usual chicken curry, but it was not meant to be. But, no one complained, as it was being devoured for lunch.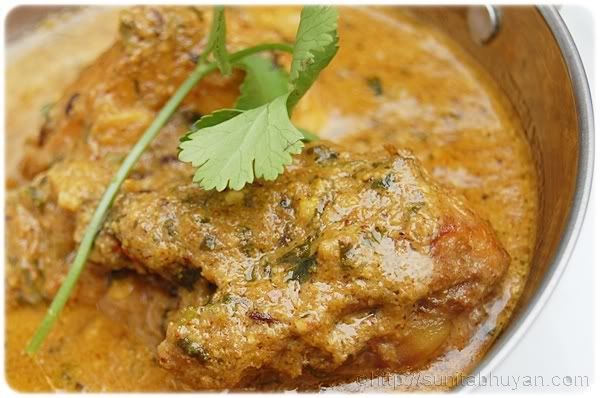 What's needed-
1.5 kg whole chicken, skinned and cut into pieces
2 tblsp cumin powder
1/2 c sunflower/vegetable oil
1 tsp sugar
1 tsp saffron strands
1 large onion+4 large cloves of garlic+1 inch piece of ginger, ground together to a paste
1 tblsp garam masala
1/2 C whole almonds, ground together with a little water to a slightly coarse consistency; and  mixed with 2 and 1/2 C water ( may need more)
1/2 C finely chopped coriander
salt to taste
For tempering-
1 tsp cumin seeds
2 bay leaves
1 whole red chilli
1 inch cinnamon stick
How to-
Heat the oil in a thick bottomed pan. Add the ingredients for tempering.
When the seeds begin to sizzle, add the sugar. When it caramalises, add the onion-ginger-garlic paste along with the cumin powder and the saffron. Stir constantly till most of the moisture evaoporates and the mixture is lumpy.
Add the chicken and stir till nicely coated in the spices and is browned on all sides.
Season with salt, cover and cook over low heat till the chicken is very nearly cooked. Stir occasionally.
Add the almond mixture along with the garam masala powder and stir well. Simmer, stirring frequently to avoid sticking to the bottom and add more water if the mixture dries out too much.
Stir in the coriander and simmer for about 1/2 a minute.
Remove from heat and serve hot with rice or any Indian flatbread and some fresh salad.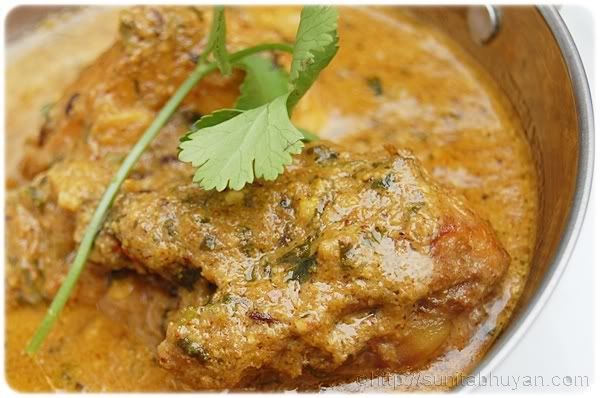 This was one gorgeous, lip smacking dish, if I may say so myself. Saffron and almonds go very well together, and this  dish reaffirmed the fact. It was the perfect marriage and the coriander in the end added the final lift to the dish.