Fried rice- for me, the very name spells- quick, easy and wholesome, not to mention easily customisable to suit one's preferences. Whether you have it straight out of the pan, or pack it in your lunchbox, fried rice is a great way to make a filling meal with little effort. Needless to say, there are probably gazillions or fried recipes to be found, each with it's own tweak; the options are absolutely limitless.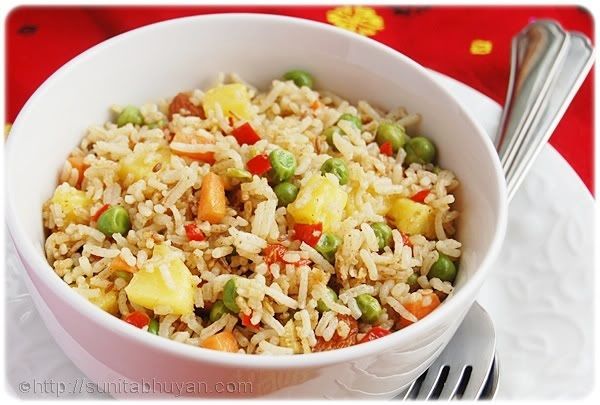 Fried rice makes it's appearance in our house quite often too, especially in times such as these-when the weather is hot and one needs a filling meal without having to spend hours in front of the cooker. It is something that can be made quickly , served in bowls and taken outside to be eaten while enjoying the weather. It makes for such a lovely one pot meal.
The most important thing about fried rice is that the cooked rice should be absolutely cold; rice which has been lying in the refrigerator for a day or two is perfect for this. The rice should also not be overcooked or they tend to go mushy on frying.
I made this hot and sweet fried rice with pineapples the other day, in literally 10 minutes (provided that the pineapple was already peeled and cut into chunks the previous day). Here's how I made it-
What's needed-
3 C of cooked rice ( preferably at least a day old, which has been refrigerated)
1 C small pieces of pineapple
1tsp + 3 tbsp of sunflower/vegetable oil
2 tsp cumin powder
1 tsp cumin seeds
1 small carrot, cut into small pieces
1 medium hot red chilli, finely chopped
1 inch piece of ginger, finely chopped
1/2 C of fresh/frozen peas
a handful of almonds
How to-
Mix the 1 tsp oil with the rice to separate the grains. Keep asisde.
Heat the 3 tblsp of  oil in a thick bottomed pan and add the cumin seeds. When they splutter, add the cumin powder. Stir constantly and add the chilli,ginger,  almonds, carrots and peas. Stir and cook for a couple of minutes.
Add the rice, season with salt and mix well. Mix in the pineapple pieces. Stir and cook over high heat , stirring constantly till the rice is heated through.
Remove from heat and serve hot . Or cool and pack in lunch boxes.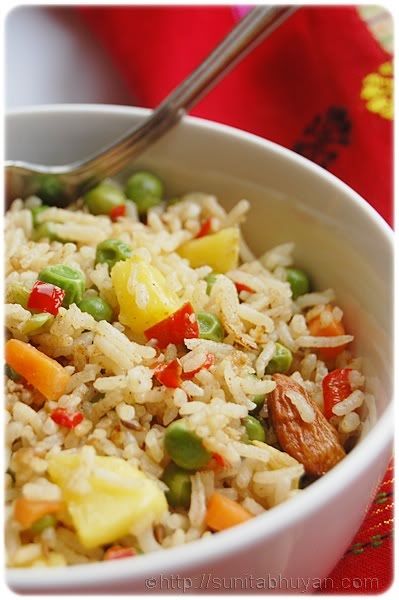 We loved this version of this colourful fried rice, an explosion of flavours and textures in each spoonful- the heat from the chilli, the sweetness from the pineapple and the bite ofromthe nuts!