Time does fly. Before I even realised, half of the year is already over. The advent of July means that there are just a few more weeks before Rengoni and Agastya's school breaks up for the summer holidays. This is also their last term in their present class. Come September, when their school reopens after the summer holidays, they will be in a new class.
So, it's been quite busy for them , lately- end of term projects, trips, concerts, discos, phew! The weather, too, has definitely been on the very bright side, lately- the sun barely leaving our sides. The pollen's making me  sneeze a lot, but, it doesn't matter- being out and about on our bikes is something we really enjoy, and the weather is definitely helping.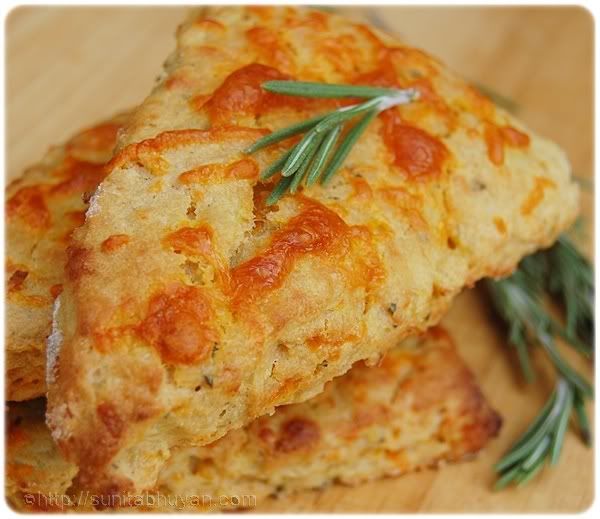 On the kitchen front, light simple meals have been the order of the day. Yesterday, I made some savoury cheese, potato and rosemary scones, which we lapped up with some green lentil soup and salad. The recipe came about due to the bowl of mashed potatoes left over from something I made earlier. As we are always game for a savoury scone, these cheesy potato and rosemary scones were born. I must mention , however that the colour of the top of the scones may vary if you are using a different cheese, say cheddar. I have used Red Leicester cheese and it imparts this pretty hue to dishes. However, the taste will still be as good.
What's needed-
2 c of whole wheat flour (atta) + extra for dusting
1 and 1/2 C of mashed potato
2 T of finely chopped rosemary
1 tsp salt
1 tblsp English mustard (optional)
2 tblsp olive oil
6tblsp +5 tblsp of grated cheddar cheese ( I used Red Leicester cheese)
2 tsp baking powder
1/2 c milk+ a little extra for brushing the tops
1 egg, lightly beaten
How to-
Pre heat the oven at 220 deg C and line a baking tray with non stick baking paper.
In a bowl, mix together everything, except the potatoes,egg, 5tblsp of cheese and milk. Rub the ingredients with the fingertips till it resembles fine crumbs.
Gently mix in the mashed potatoes.
Make a well in the centre of the flour mixture. Mix together the milk and egg and pour into the well. Lightly mix till everything is just moistened. It will be a sticky mess at this point, but there's nothing to worry.
Transfer the mixture to a well floured board and with floured hands, knead very lightly to form a ball. It should still be slightly sticky. Do not over knead and do not add too mush flour. Pat into a circle of about 1 and a 1/2 cms in height. Cut into eight equal triangles.
Transfer the triangles to the prepared baking tray, slightly apart from each other. Brush the tops with a little milk and sprinkle the rest of the cheese on top.
Place the tray in the centre of the pre heated oven and bake for 12-15 minutes or till puffed and golden.
Transfer to a rack to cool. Serve warm, on it's own or with a dip, as a snack or as an accompaniment with soup.
If you are storing for later, cool completely on the rack and store in the refrigerator. Warm in the microwave or wrap in foil and heated in a pre heated oven for few minutes..
Am sending these delicious scones over to Lisa as an entry for No Croutons required. Wouod go well with this spicy leek and potato soup or this roasted butternut squash soup or this roasted butternut squash, peppers and leek soup or how about this hearty beans, lentils and pearl barley broth?
Have a great weekend everyone!