I was pulling out the weeds in the garden today. As I was pulling and clearing away the dried fallen  leaves, it suddenly dawned on me. Hang on a minute! Aren't these dried leaves falling from the bush above? On close inspection, I noticed that quite a few leaves had changed colour; could it be that autum was at our doorstep already? the weather has certainly cooled down and there is that typical 'nip in the air'. Am not complaining though, as I love autumn, the season where "every leaf is a flower".
On the kitchen front, I made this coriander, mixed peppers and paneer curry for a weekend lunch. It's quite an easdy dish to put together, once the ingredients have been prepared. The soft pieces of paneer, the bite from the peppers all mingle with the rest of the ingredients. Fresh and dry spices play a major part in this recipe, so don't leave them out.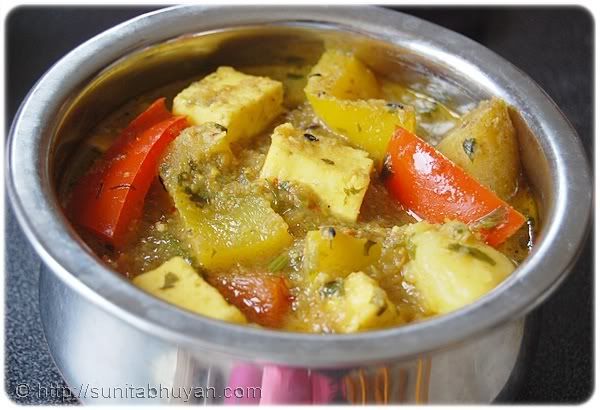 What's needed-
2 medium sized onions,chopped + 5 cloves of garlic, ground to paste
3 tblsp of coriander seeds +4 tblsp of dessicated coconut, ground together
1 tsp crushed red chillies ( more or less)
1/3 tsp turmeric powder
6-7 medium sized potatoes, quartered and boiled
2 tsp garam masala powder
4 tblsp of sunflower/vegetable oil
3 c of hot water
2 peppers ( I used red and yellow), deseeded and chopped
1/2 C of fresh coriander, finely chopped
150 gms of paneer, cut into bite sized pieces
For the tempering-
1 tsp cumin seeds
2 bay leaves
1 inch stick of cinnnamon
1 whole red chill, halved
How to-
Heat the oil and add the ingredients for tempering. When the seedssplutter, add the onion-garlic paste along with the turmeric, ground coconut and coriander and crushed red chillies. Stir constantly till most of the moisture evappraytes and the mixture is lumpy.
Add the boiled potatoes, stir for a minute, add the peppers and stir for about 3 minutes.
Add the hot water, garam masala and season with salt. Bring to a boil.
Add the paneer and chopped coriander and simmer till the gravy thickens ( not too much as it will thicken further on cooling).
Serve hot with any Indian flatbread and some fresh salad.
We had ours with some roti and fresh salad for a filling weekend lunch.