Energy, that is what I need at the moment; energy to get all those things done, that seems to be piling up on my to do list. I try to look away, but when has that ever helped? What needs to be done, needs to be done! So, I am ploughing through the never ending list. The kids summer holidays are running at full speed, there are house guests arriving this weekend and so many things need to be sorted out. Just felt lazy one day and had hell to pay for the next day! Phew! Running around like a headless chicken? You bet!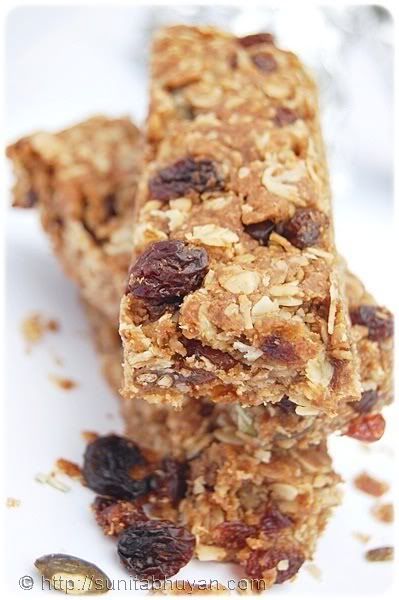 And there's the kids demanding a snack every now and then, fruits, nuts, all gone in minutes. No, we need something that will keep their ever hungry tummies satisfied for a little longer. And that's where these peanut butter, dried fruits and seeds oats bars come in handy. These are real energy bars; one of them will keep you going for a long time. If you're on the run, and cannot afford o sit down for breakfast, grab one of these bars, wrap in foil and munch on your way, will make you feel less guilty of skipping breakfast. These are great in lunch boxes too. As for myself, it surely gives me the energy I need so much. I'm looking around as I type this and another chore beckons. So, before I run after that, let me share the recipe for these deliciously crunchy and slightly chewy bars.
What's needed-
2 and a 1/2 c of jumbo oats
5 tblsp of raisins
1 tblsp pumpkin seeds
1 tblsp dried pomegranate seeds


5 tblsp dessicated coconut
5 tblsp dark muscovado sugar
7 tblsp ( slightly heaped) peanut butter
2 tblsp of sunflower oil
4 tblsp of milk
How to-
Pre heat the oven at 170 deg c and line an 8 inch square pan with foil.
In a bowl, mix together all the ingredients except the sugar, oil, milk and peanut butter.
In a small saucepan,add the milk, sugar, oil and peanut butter, and over low heat, stir the mixture till smooth. take care not to burn.
Add the hot mixture into the oats mixture and mix well. use a spoon at first and then get your fingertips in and mix together as much as you can. It will be a very dry and crumbly mixture.
Place the mixture in the prepared pan and press down very firmly.
Place the pan in the centre of the pre heated oven and baker for about 25 minutes.
While still hot in the pan. Cut into twelve bars and cool completely in the pan.

When cooled, lift everything out of the pan with the help of the overhanging foil. Separate the bars. Save in an air tight container.
You can add fruits, nuts and seeds of your choice.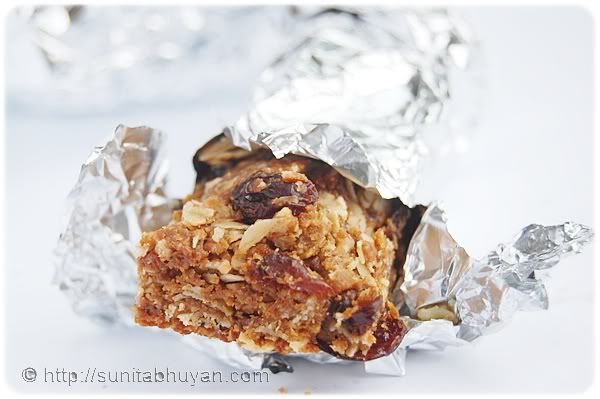 There you go, the energy bars are now ready to be enjoyed.