Our house is very 'potatoey' at the moment. Potatoes from big and small, light skinned to dark skinned, they all seem to be eating up the spaces in the kitchen. The reason? Dinesh is on a potato roll. Every time he's been out shopping a huge bag of potatoes seems to land up in our house. Whether it is from the local supermarket or the farmers market or the local farmer's stall in front of his house, a bag of these spuds make their way into our kitchen without fail. I've been exclaiming 'not again!'way too much these days.
Needless to say, we've been trying to use them up as much as we could. I came across this recipe for a potato-apple kugel a while ago and then forgot about it. With so many potatoes lying around, I felt that it was time to try it out.
Kugel is a traditional Jewish dessert or side dish. The word is Yiddish for ball, but it is sometimes translated as pudding or casserole, and related to the German Gugelhupf. Made from bread and flour, the first kugels were plain, and salty rather than sweet. About 800 years ago, their flavor and popularity improved when cooks in Germany replaced bread mixtures with noodles or farfel. Eventually eggs were incorporated. The addition of cottage cheese and milk created a custard-like consistency which is common for today's dishes. While less renowned than their sweeter cousins, savory kugels have always existed. Early noodle recipes called for onions and salt and were tasty at room temperature. Over the centuries, inspired cooks have skipped the noodles, substituting potatoes, Matzah, carrots, zucchini, spinach or cheese.(source)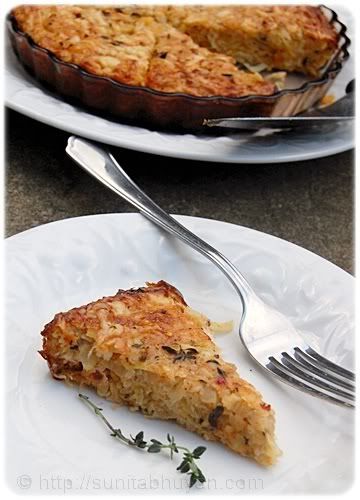 The recipe is quite straightforward, almost like a frittata or a crustless quiche. But what intrigued me was the combination of ingredients. I, personally would have never thought about bringing potatoes and apples together. But I had nothing to worry about, for it was a great combination. Drawing inspiration fromthe original idea, I made my kugel by adding and substituting ingredients here and there.But the two major players- potatoes and apple had their place of pride. With warm spices and aromatic herbs, this was a delightful dish and i'm glad i made it. The flavours were beautiful.
The following is my adapted recipe of the original-
What's needed-
1 tblsp olive oil
1 medium sized onions, finely chopped
1 tblsp dark brown sugar
1 tsp fresh lemon thyme + a little more for sprinkling on top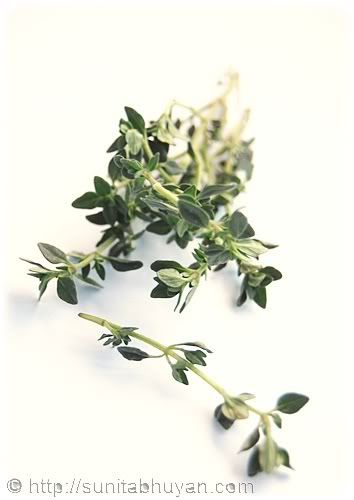 4 small potatoes, peeled and soaked in cold water ( i used exquisa potatoes)
1 granny smith apple, cored and peeled
1 tsp smoked paprika
1/2 tsp crushed red chillies ( more or less)
3 eggs
1/2 tsp salt
1 C grated cheddar cheese ( I used extra mature) + a 2-3 tblsp for the topping
1 tsp freshly ground pepper + a little extra for topping
How to-
Pre heat the oven at 180 deg C and grease an 8 inch round baking pan.
Heat the oil in a pan and cook the onions over medium heat for about 5 mins or till they soften. Add the sugar and cook, stirring constatntly for another 2 minutes. add the 1 tsp lemon thyme and cook for another 20-30 seconds. Keep asid eto cool.
In a bowl, mix together the eggs, 1C cheese, 1 tsp chillies, paprika, salt and 1 tsp pepper. Grate the apple into the bowl. Grate the potatoes, squeeze out the excess moisture and add to the egg mixture. Mix everything together and place in the greased baking pan.
Sprinkle the remaining cheese, lemon thyme, pepper and crushed red chillies on top.
Place the pan in the centre of the pre heated oven and bake for about 35-40 minutes or till the top is golden brown. If the top browns too much before the baking time is over, cover the top loosely with a piece of foil and continue baking.
Cut into wedges and serve hot. We had ours with just some fresh salad.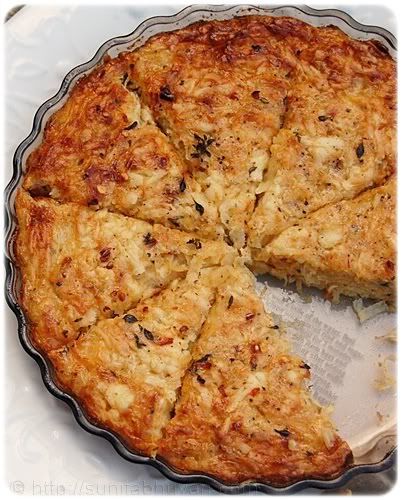 The kugel had a wonderful flavour, slightly tart, slightly hot and ever so slightly sweet; absolutely delicious. i will definitely making this again.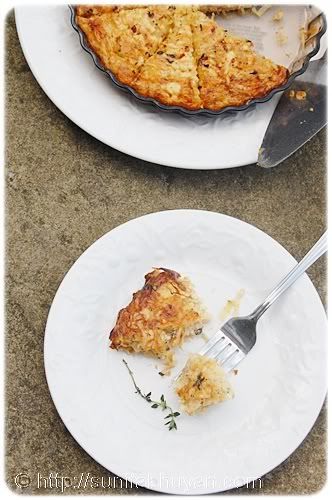 So, next time when life gives you potatoes, try this potato-apple kugel!