Yes, the kids have gone back to school. Before we knew it, the six weeks of summer holidays were over, as usual, in the blink of an eye. It is time again for them to settle down into a new class with their new teacher. Rengoni and Agastya went back to school yesterday, apprehensions written large on their faces. But it was nice to see their cheery faces when they came out of school in the evening. The first day in a new class has definitely gone well.

Before I jump to the recipe, let me thank all of you who dropped by , wished the children on their birthdays and also left notes on other posts. I really appreciate it.
I've been cooking, in fact quite a lot, both for ourselves as well as for friends. But, at the end of the day, just couldn't squeeze in the posts as regularly as I would have liked to. Sorry if you've had to see the same thing on your screens for ages.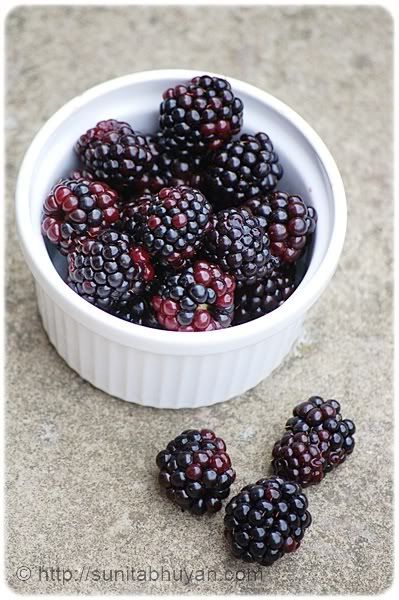 Now, let's jump to today's recipe. Blackberrries are growing everywhere these days. So, some gorgeous ones were brought home and some went into this delicious no bake quark and blackberry swirled cheesecake served with blackberry sauce. It is very easy to make, and tastes delightful. We really loved it and hopefully you will too. It requires no special skill, but does need a few hours of chilling time.
What's needed-
For the base and sides-
10-12 digestive biscuits
2 tblsp of butter, melted
For the blackberry sauce-
300 gms of blackberries
4 tblsp of honey
3 tblsp of water
1/2 tsp of crushed red chilles
For the quark filling-
500 gms of quark
5 tblsp of honey
1 tsp vanilla extract
Others-
4 leaves of gelatin
How to-
Crush the biscuits and mix with the melted butter. Place it in an 8 inch round pan and push the mixture down firmly on the bottom and up the sides. Chill for at least half an hour.
Place all the ingredients for the blackberry sauce in a pan over heat. Simmer over medium heat, stirring frequently, breaking the fruit a little, when soft, for about 10 minutes or till the mixture resembles a chunky sauce. Cool completely.

Soak the gelatin leaves in water till soft.
In a bowl, whisk the ingredients for the quark filling till smooth.
Squeeze the water from the gelatin leaves and place in a small bowl. Place the bowl in the microwave for about 6-8 seconds or till the gelatin has melted completely. This can also be done on a small saucepan over heat.
Pour the liquid gelatin into the quark mixture in a steady stream, and whisk vigorously. Add a couple of tblsp of the blackberry sauce and mix in very roughly. Reserve the rest of the sauce.
Transfer the filling into the chilled case and smooth the top. Chill till set. ( It took about 4-5 hours in our ancient fridge).

Serve chilled with some of the sauce spooned over the slices.
This was just light and lovely, smooth, with the occasional bite from the blackberries and the deep, concentrated flavours from the sauce.
Now, on to the giveaway which is open till the 25th of this month (25th September, 2010)
UPrinting is sponsoring this giveaway.
Designer Cards, blogger cards and so much more… From marketing materials to personal cards, business cards have developed from the plain and boring to a more modern look with rounded corners, square cards and slim cards.
Dear readers, here's your chance to win Die cut business cards prints!
One lucky reader will get the chance to win 250 Die Cut Business Cards (2x 3.5", 2 x 2" (square card) or 1.75 x 3.5" (slim card)
Die cutting options available: Rounded Corners, Leaf, Rounded One-Corner, Half-Circle Side, Circle
Paper Type: 14pt Cardstock Gloss, Matte, or High Gloss; 13pt Cardstock Uncoated
Color: 4Color Front, Blank Back; 4Color Front, Black Back; 4Color Both Sides
***This giveaway is limited to US residents only  18 years old and above.
I will be receiving  250 Die Cut Business Cards from UPrinting.com for hosting this giveaway.  
If you would like to take part in the giveaway, leave a comment below, along with your email address ( to get in touch if you win), on or before the 25th of September, 2010. all the best!