It all began with an email. A friend of ours sent me an email a few days ago asking if I had any recipes with manimuni xaak ( Asiatic Pennywort). Now, this is something which is found and consumed in abundance in Assam. It does not require much looking after  and grows easily.
To be honest, I hadn't seen these greens here and have enjoyed it when it was made into a light gravy with some small fish added to it, by ma. I, myself, had never made it. But, I do remember the various ways in  which it was made by ma. So, I replied to our friends, stating whatever little knowledge I had about it's preparation and my own personal inexperience in making anything with it. I also mentioned how lucky they were to get this wonderful ingredient near them. Manimuni is supposed to have great medicinal properties. You can read all about it here.
A few days after that, we had the opportunity to meet the above mentioned friends again during a common event. They drew my attention and mentioned that they had something for me. And guess what, on their way to the venue, they had stopped and bought a couple of bunches of the manimuni xaak for me. Now, isn't that wonderful! I can't thank them enough; that was so sweet of them. I just couldn't stop grinning. For me, that carrier bag, with the bundles of manimuni in them was worth their weight in gold.
I couldn't wait to get working on them, and when we got home the very next day, I rang up ma at the first opportunity. Unfortunately, she was somewhere else and I told her that I would ring back later. But, I was too eager to get started, and 'waiting', was not something I particularly wanted to do at that time. So, using my instincts, and what I remembered of the taste of ma's recipe, I set about to make this light gravy.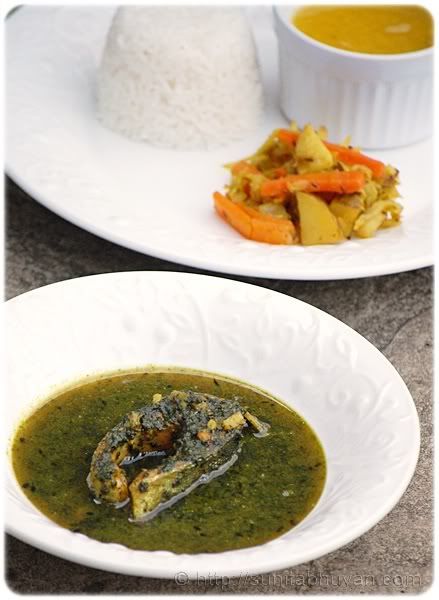 This recipe does not make a lot of gravy, as back home, this gravy would be one of the various side dishes to accompany a meal. I made some mixed vegetables and a plain red lentil dal to go with some plain rice.
***These leafy greens are sold in bundles, usually in Sri Lankan grocery shops.
What's needed-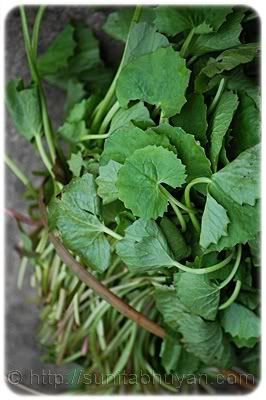 leaves from 2 bundles of manimuni (Asiatic Pennywort)***, ground with 2C of water and strained( discard the remains in the sieve)
1 and 1/2 tblsp of mustard oil ( sunflower or vegetable will do too, but mustard will give that lovely flavour)
1/2 tsp each of finely chopped ginger and garlic
1/2 tsp cumin seeds
1 bay leaf
1 whole red chili, halved
4 pieces of rainbow trout ( small fishes like sprats can also be used), rubbed with a little salt and 1/2 tsp turmeric powder
3/4 tsp cumin powder
1/4 tsp turmeric powder
salt to taste
How to-
Heat 1 tblsp of oil in a pan and lightly fry the pieces of fish. Remove from the pan and keep aside.
To the same pan, add the rest of the oil . When the oil heats, add the cumin seeds, bay leaf and halved red chillies.
When the seeds splutter, add the reserved green liquid along with the ginger, garlic, turmeric and cumin powders. Bring to a boil.
Add the pieces of fish into the gravy and simmer over medium heat for about 10 minutes. As the gravy will not be much, kep spooning it over the fish as it simmers.
Serve hot as a accompaniment to rice and dal.

It was absolutely delicious, a taste of another dish we've grown up with. We not only enjoyed the taste, but also the memories attached to the dish. Thanks so much, you know who you are

Btw, do in case you haven't heard, there is a giveaway on my blog, till the 25th of this month- check it out here.