I had received a hamper from Kinvara Smoked Salmon way back in July to try out. They had sent a big pack including roasted smoked salmon as well as a bottle of salmon pate. I did try them out , but was unable to post a review as I had lost all those pictures due to a 'laptop problem'. But everything is fine now, those pictures have been saved, thanks to Dinesh, and I can now post the recipes.
In our house, it is just me and Dinesh that love smoked fish. The kids are not particularly fond of it. But this time round, I was surprised to find two more takers of smoked fish and I was not really surprised. The smoked salmon from Kinvara had a beautiful texture and flavour and you can immediately sense the difference.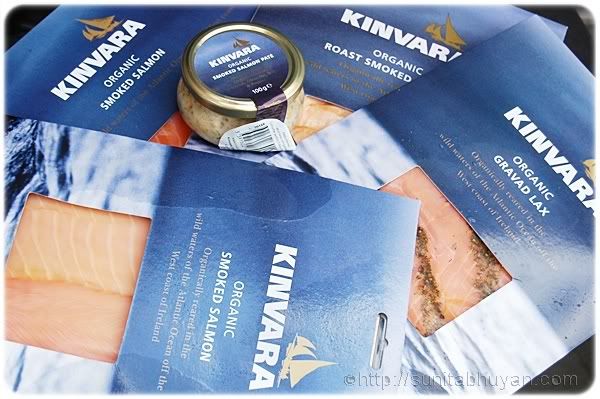 As the people of Kinvara smoked Salmon say-
"We are a family business based in Kinvara, a picturesque seaside village on Galway Bay, on the west coast of Ireland. From here we ship our seafood products to satisfied customers in over 27 countries. We use only the finest raw material available – Organic Irish Salmon. We employ traditional, age old smoking techniques in a state of the art HACCP approved Smokehouse to produce an Organic Smoked Salmon that is quite simply the very best available." Read more about them here.
Kinvara Smoked Salmon has been highly praised and has won several awards too. among others, it was voted the number 1 Smoked Salmon in Great Britain by the BBC Good Food Magazine. ( Check this)
The process of salting, drying and cold smoking is a centuries old technique. Kinvara Smoked Salmon combines this ancient craft with modern technology to produce a smoked salmon that is second to none, and one can really taste the distinctive flavour. what makes it even better is that their organic salmon are reared on a purely organic diet. This means no GMO ( genetically modified organisms), no animal by-product and no growth promoters. The feed given to the fish is natural and organic.
You can buy the Kinvara products through their online store. Just go here.As well as their Home Delivery Mail Order service they also supply some of the best shops in Ireland, England and Europe.
Didn't I tell you that we have two more fans of smoked salmon in the house already. and yes, I wonder if they ( well, probably me too) are going to take to other varieties after tasting the Kinvara Smoked Salmon.
So, what did I make with it? First up is this lovely smoked salmon, peas and sundried tomato risotto, perfect to warm you up during these cooler nights.


What's needed-
150 gms of smoked salmon (I, of course, used Kinvara Smoked Salmon), gently crumbled
2 onions, chopped
2 C of arborio rice
2 tblsp of olive oil
3-4 cloves of garlic, chopped
1 and 1/2 tblsp of sundried tomato paste
11-12 C of hot chicken/vegetable stock ( may need a little more)
3 C of peas
1/2 tsp crushed red chillies
100 gms grated Leicester cheese ( can use cheddar instead)
salt and freshly ground pepper to taste
How to-
Heat the olive oil in a deep pan and add the onions. Stir till they are softened.
Add the rice and stir till the grains are translucent.
Stir in the sundried tomato paste along with the chillies and about 3 C of stock. Bring to a boil and simmer over medium heat, stirring every now and then. When it thickens, add the rest of the stock in batches, and do this till all the stock has been used up and the rice has been cooked, but still has a slight bite to it.
Add the peas when the rice is nearly cooked.
If you run out of stock before the rice finishes cooking, just add a little hot water.
Stir in the cheese and the smoked salmon and keep on heat for  few seconds.
Check the seasoning, remove the pan from heat, cover and let it stand for a couple of minutes.
Serve immediately, garnished with a little freshly ground pepper and crushed red chillies.
This was absolutely fantastic, the salmon added the distinctive flavour, which was not too overpowering.


Give it a go, comes highly recommended!
The die cut business card giveaway is still on , check this post and leave a comment to enter.