This cake , like so many others of mine, developed gradually as I was baking it. It all started off with an intense desire to bake something; I get those urges very frequently. It heps me get rid of sudden boredom by giving me a sense of accomplishment; when I'm upset, it uplifts my mood, and when I'm happy, it makes me happier; and it also helps me to de-stress. We all have our own ways of dealing with different moods, but baking has almost always been my companion.
As I was saying, I was in the mood to bake and the basic ingredients were summoned. The mood? Hmm, a little sad, I guess. I was on the phone with ma and heard some disturbing news; someone close was very poorly on the health front. The phone call had reduced me to tears and there was nothing that I could do. How frustrating such times seem! A storm was raging in my head, a sense of helplessness and despair. I picked up the phone again, this time to talk to my sister, and after spending three quarters of an hour with her , the storm in my head did manage to calm down to a  great extent. What would we do without sisters, huh? Sometimes, it seems so unreal. My sister is older to me by quite a few years, and when I was growing up, I can't say that we were the best of playmates. I can't blame her though, for she had outgrown my stage of life way before i had reached that age.  And when one is younger, age differences seem to be so much more than it actually is. But, things changed when I grew up, and I can remember fondly those nights when we would both chat late into the nights, with giggles thrown in every now and then. Thankfully, it has been like that ever since and we still manage to talk at top speed, sometimes overlapping each other, but understanding each other perfectly, a feat that many of you might be very good at too (try telling that to Dinesh).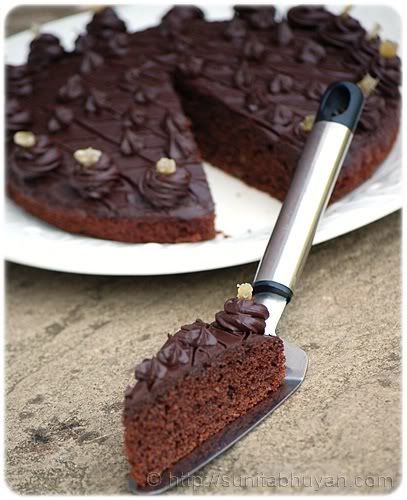 Coming back to the cake, I wanted to add somethuing to it to add an extra kick, so the ground ginger was summoned and so was the cocoa powder, after all chocolate makes everything better, doesn't it? I had a batch of  dark chocolate ganache sitting in the fridge from a cake that I made earlier for a party, and I wanted to do something involved, so I went all the way and decorated the cake with ganache. I let the cake mature it's flavours for a couple of days and it was as moist as ever. It tasted great on it's own too without the topping, as it is very moist and full of flavours. So, you can keep it simple without the icing and enjoy with your cup of tea or dress it up for a party. Either ways, you won't regret it.


The best part about decorating with ganache is that, when it is runny (immediately after making it), you can pour it over the cake to form a glaze; when it slightly thickens (on cooling), you can spread it, and little more thick ( on cooling further) and you can pipe designs with it. I spread a thin layer of ganache over the cake, ran a toothpick over it to make the lines and then when it thickened a bit more, ( the ganache thickens as it cools) piped swirls and drop flowers on top with bits of crystallised ginger added to adorn the swirls.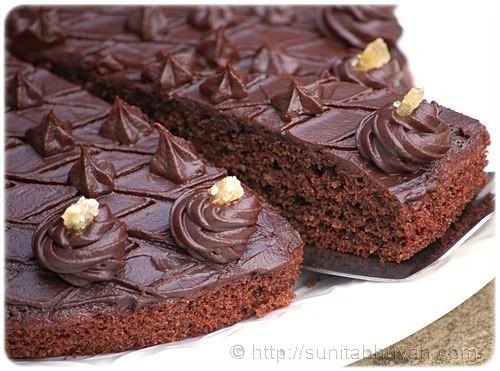 What's needed-
2 eggs
3/4 C of whole wheat flour (atta)
4 tblsp of cocoa powder
6 tblsp ground almonds
1 tsp baking powder
1/4 tsp bicarbonate of soda
2 tsp ground ginger
6 tblsp of dark muscovado sugar ( or other dark brown sugar)
7 tblsp of sunflower/vegetable oil
2 tsp of finely chopped crystallised ginger
7 tblsp of milk
For the ganache-
** I used leftover ganache, so the following are approximate measurements, you may need more or less. For the original measurement, I used about 400 gms of dark chocolate ( 75 % cocoa) with 500 mls of double cream. If you make this amout,  you can always chill the leftovers and reuse it for glazing etc, by warming it very slightly. Overheating, however, will make the mixture grainy.If you will not be using the leftover ganache within the next few days,  put it in a plastic resealable bag and place in the freezer. This should keep for a couple of weeks or maybe more ( I once kept it for two weeks); will come in handy if you need to ice cakes/cupcakes in a hurry. Having said all this, if you do not want much leftover ganache, you can always halve the given measurements. ( Apologies for the vague measurements, but the above should give you a rough idea about the ratio of chocolate to cream that I used)
To decorate- 1 tsp of chopped crystallised ginger
How to-
Pre heat the oven at 180 deg C and line an 8 inch round baking pan with foil.
In a bowl, whisk together the  flour, ground ginger, baking powder, soda and cocoa powder. Add the chopped ginger and rub into the flour mixture.
In another bowl, lightly whisk together the eggs, milk and sugar. Whisk in the oil.
Make a well in the centre of the flour mixture and tip in the egg mixture. Fold in till everything is just moistened.
Tip the mixture into the prepared tin and smooth the top.
Place the pan in the centre of the pre heated oven and bake for about 20 minutes.
Cool the cake for a minute, in the pan, and then, transfer to a rack, peel of the foil and cool the cake completely.
Once the cake has cooled, wrap the cake tightly in foil and keep for at least a day. This comes highly recommended. The cake can then be sliced and enjoyed . If you want to decorate the cake, skip to the next step after you have stored the cake for at least a day.
Chop the chocolate finely and place in a bowl. Place the cream in a small saucepan and heat it till the sides begin to bubble. Pour it over the chocolate and leave for a minute. Stir vigourously till smooth. Let it cool for a few minutes, when it has thickened slightly,and is not too runny, place 3-4 tblsp of the ganache in the middle of the cake and spread immediately to form a thin layer on top. Let it set a little and then run a toothpick over it, to form  diamond patterns.
When the rest of the ganache has cooled further and is able to hold its shape, transfer to a piping bag and pipe swirls around the edges of the cake and then pipe flowers all over. Garnish with bits of chopped crystallised ginger as a finishing touch. This is  how I decorated my cake; you are of course, free to give it your own touch.
**Note- This is not a very tall cake, so if you want, you could make another cake and sandwich the two with a little ganache.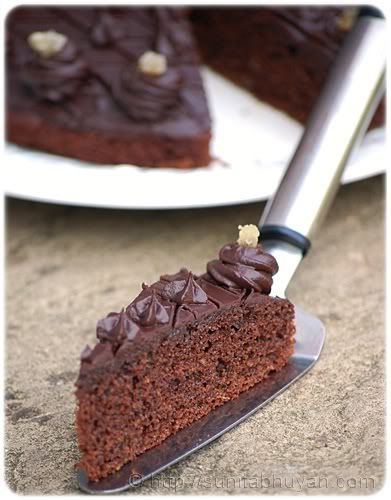 If I ever have to gush over my own creations, this would definitely be one of them. The cake was moist and full of flavours. If you like ginger, then this definitely the cake for you. It is so simple to assemble the cake, and you will love the aromas emanating from the oven as the cake bakes . And as I said, the cake is perfectly capable of holding it's own, even without the toppings.