Hello everyone, firstly, let me thank all of you for all your warm wishes; hope you too have had a fantastic start to the new year and are looking forward to the days ahead.
As for ourselves it's been almost non stop friends and feasting. No wonder I feel heavy all the time nowadays, must have gained a good few pounds ( too scared to check the scales). No new year resolutions for me, just to take each day as it comes.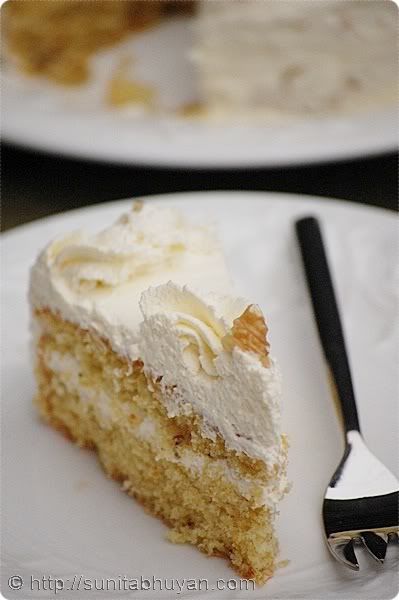 And baking, I have been doing that alright, a lavish cake every other day has been coming out of my kitchen. I am so enjoying decorating the cakes to my hearts content. To be honest, I have always loved decorating cakes, but refrain from doing it when making one just for ourselves, except for some special occasion, of course. During these holidays, there has been plenty of opportunities to share them with others so that there is not much on our plates.
I made this decadent chocolate cake to be shared with friends yesterday at lunchtime.
The basic cake is from this chocolate, ginger and almond cake that I made three to four months ago.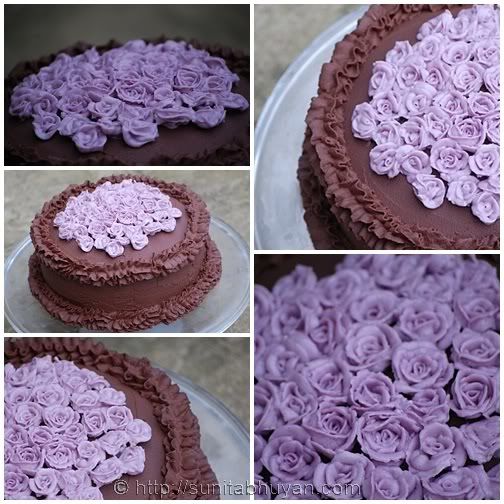 I omitted the ginger here, made two 8 inch round cakes and sandwiched with dark chocolate ganache, which I also used to cover and decorate the cakes. The rosettes on top of the cake were piped with some leftover icing from this vanilla sponge layered cake that I made for the new year party.
This was a totally decadent and rich cake, a chocolate lovers delight, but a small piece is more than enough. We had a very sweet little guest who refused to let go of her spoon and plate ( which had been scraped clean) and get out of her seat, which was strategically in front of the cake; now that is a compliment, I guess!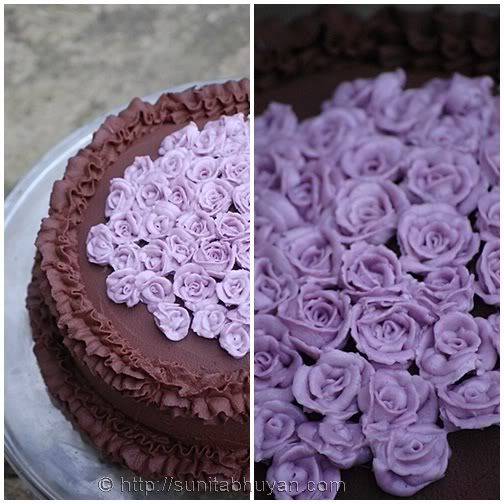 The recipe that I am going to share with you today is, however, of this clementine and walnut  cake; a delicately flavoured cake, filled, covered and decorated with clementine flavoured whipped cream and walnuts. This was made a few days ago.
What's needed-
3/4 C of whole wheat flour (atta)
2 tsp clementine zest
1 tsp baking powder
3 eggs
2/3 C + 2 tblsp caster sugar
1/3 C +2tblsp sunflower/vegetable oil
1/4 C + a little more( for decoration) chopped walnuts
Soaking syrup- A few tblspns of freshly squeezed clementine juice
For the whipped cream- 2C double cream+3 tblsp sugar+2 tblsp of clementine juice
How to-
Pre heat the oven at 180 deg c and line an 8 inch pan with foil.
Beat together the eggs and sugar with an electric beater for about 3 minutes. add the oil and beat for another minute.
Mix together the flour,zest, 1/4 C chopped walnuts and baking powder and fold into the egg mixture.
Tip the mixture into the prepared pan. Place the pan in the centre of the pre heated oven and bake for about 25-27 minutes or till a toothpick inserted through the centre of the cake comes out clean.
Cool the cake in the pan for a minute . Remove the foil and cool completely before decorating.
Beat the double cream and sugar till it forms stiff peaks. Fold in the clementine juice.
Slice the cake horizontally into two halves. Brush a little of the clementine juice ( for the syrup) over the bottom half of the cake. Spread a little whipped cream and place the other half of the cake on top. Brush the top of the cake with a little more clementine juice. Cover the top and sides of the cake with some more of the whipped cream and decorate as you desire. I piped a simple design and added the rest of the chopped walnuts.
***Note- The clementine can easily be substituted with orange.
We loved this cake, it was simple and refreshing with the clemnetine flavours. It is one of those cakes when you can probably make room for another slice. Needless to say it was polished off in one sitting, with friends of course.