When I wrote in my last post, about how glad I was to see the rest of my family getting over their illness, and everything was returning to normal, I probably ruled myself out. Or probably , I thought I was immune to it. How very wrong I was! That very evening, I started going downhill, and by the following night (Saturday), things came to such a pass that the fever really went to my head, I started to mumble, and poor Dinesh was left with no other option than to summon the paramedics. When I regained my senses, there were two strange men on both sides of the bed, staring back at me, one putting something tight round my arm (he was checking the pressure) and the other was pricking my fingertip (testing the blood). The next morning, the kids(who were fast asleep when all this drama unfolded), were concerned as well , but probably a bit disappointed about not seeing the ambulance!
By the next day, the throat infection started. Oh boy! Even something as simple as sipping a glass of water seemed to be such an ordeal and took forever. I went about the house looking like a zombie…and Rengoni did mention that I did not look very nice with my worst pyjamas, scarf round my neck, a thick jacket, and socks on my feet (all of this inspite of the warmth inside the house), but then, how I look like was the last thing on mind. I was cold, very cold, and took care of it.
I had my first proper meal last night after almost a week…no choking, no coughing to the point of tears. The food actually passed from my mouth and through my throat without incident. I was so happy. How many things we take for granted! I am now on the mend, trying to regain the strength. If I have not been sociable for the last week, now you know the reason. I will soon get around to replying to your comments, emails and visiting your lovely blogs.
While I have been shut up inside the house, so many things have happened. We had our first snowfall of the season, which was quite suprising. But, then, the last few years, it has been falling very erroneously. Then, again the shocking news about Mumbai. What can be ever gained by killing innocent people?
Now, for the challenge..this month's Daring bakers challenge . This month, our hostess was Dolores of Chronicles in Culinary Curiosity along with Alex and Jenny helping out. The recipe of choice was a signature cake by Shuna Fish Lydon of Eggbeater. It is a caramel cake with caramel butter frosting. The recipe was by Shuna Fish Lydon- Caramel cake.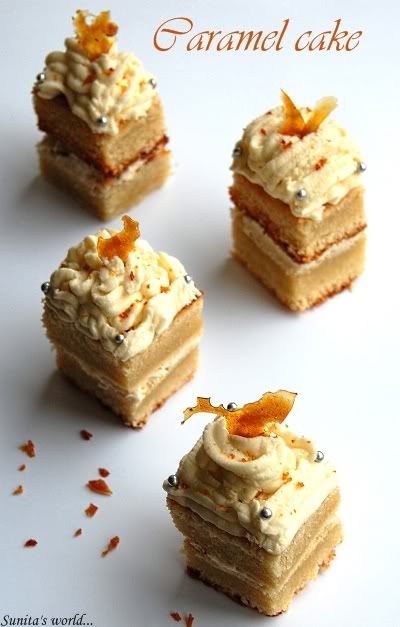 This was such a last minute bake for me. The whole month has been quite busy, with one or the other falling ill. But, last night, after my incident free dinner, I decided to give it a go. I baked the cake and made the syrup. Today, I did the assembling and the frosting, and the challenge was completed.
I had read about fellow daring bakers mentioning the cake to be too sweet. So, I reduced the sugar a bit. The frosting was very, very, sweet, and I did add a considerable amount of salt to balance it. The cake and the frosting was quite easy and I did not run into any trouble. There were also some caramels that we could make, which did not seem too complicated, But, I thought the cake itself had enough sugar to last for quite a while. Moreover, none of us are keen on them.
What I did-

For the cake, I made an eight inch square cake and cut them into 16 squares. I sandwiched each pice with another, with some of the frosting and topped with some more frosting. I decorated with some silver balls and sugar chards. The portions were quite small, and that was more than enough sweetness for us.Other than reduce the sugar, both the cake and the frosting were made exactly as the given recipe.

The following is the recipe that we had to follow…
CARAMEL CAKE
142g unsalted butter at room temperature
280g granulated sugar
½ tsp/2.5 ml kosher salt
80ml Caramel Syrup (see recipe below)
2 each eggs, at room temperature
splash vanilla extract
286g all-purpose flour
1/2 teaspoon/2.5ml baking powder
240ml milk, at room temperature
Method
Preheat oven to 350F/176c/gas mark 4.
Butter one tall (5-6/2 – 2.5 inch deep) 23cm/9-inch cake pan.
In the bowl of a stand mixer fitted with a paddle attachment, cream butter until smooth. Add sugar and salt & cream until light and fluffy.
Slowly pour room temperature caramel syrup into bowl. Scrape down bowl and increase speed. Add eggs/vanilla extract a little at a time, mixing well after each addition. Scrape down bowl again, beat mixture until light and uniform.
Sift flour and baking powder.
Turn mixer to lowest speed, and add one third of the dry ingredients. When incorporated, add half of the milk, a little at a time. Add another third of the dry ingredients, then the other half of the milk and finish with the dry ingredients.
Note: This is called the dry, wet, dry, wet, dry method in cake making. It is often employed when there is a high proportion of liquid in the batter.'
Take off mixer and by hand, use a spatula to do a few last folds, making sure batter is uniform. Turn batter into prepared cake pan.
Place cake pan on cookie sheet or 1/2 sheet pan. Set first timer for 30 minutes, rotate pan and set timer for another 15-20 minutes. Your own oven will set the pace. Bake until sides pull away from the pan and skewer inserted in middle comes out clean. Cool cake completely before icing it.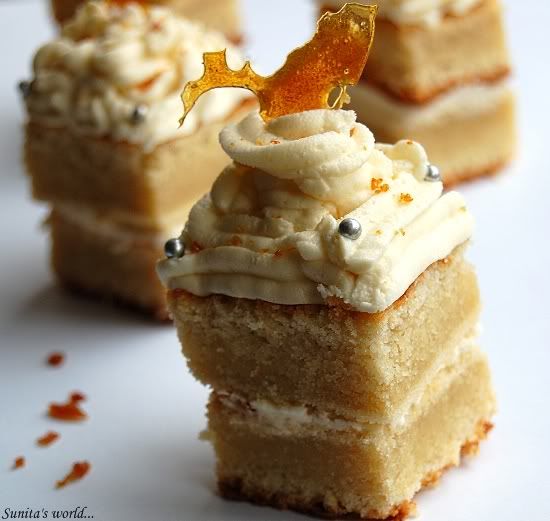 Cake will keep for three days outside of the refrigerator.
CARAMEL SYRUP

450g cups sugar
120ml cup water
240ml cup water (for "stopping")
Method
In a small stainless steel saucepan, with tall sides, mix water and sugar until mixture feels like wet sand. Brush down any stray sugar crystals with wet pastry brush.
Turn on heat to highest flame. Cook until smoking slightly: dark amber.
When color is achieved, very carefully pour in one cup of water. Caramel will jump and sputter about! It is very dangerous, so have long sleeves on and be prepared to step back.
Whisk over medium heat until it has reduced slightly and feels sticky between two fingers. Wait for it to cool on a spoon before touching it.
Note: For safety reasons, have ready a bowl of ice water to plunge your hands into if any caramel should land on your skin.
CARAMELIZED BUTTER FROSTING
12 tablespoons unsalted butter
454g confectioner's sugar/icing sugar, sifted
60-90 ml heavy/double cream
10ml vanilla extract
30-60 ml caramel syrup
Kosher or sea salt to taste
Method
Cook butter until brown. Pour through a fine meshed sieve into a heatproof bowl, set aside to cool.
Pour cooled brown butter into mixer bowl.
In a stand mixer fitted with a paddle or whisk attachment, add confectioner's sugar a little at a time. When mixture looks too chunky to take any more, add a bit of cream and or caramel syrup. Repeat until mixture looks smooth and all confectioner's sugar has been incorporated. Add salt to taste.
Note: Caramelized butter frosting will keep in fridge for up to a month.
To smooth out from cold, microwave a bit, then mix with paddle attachment until smooth and light.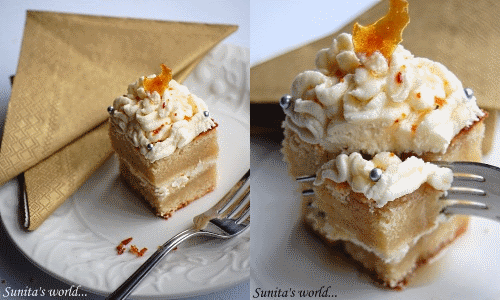 We loved the cake on its own, and I might be tempted to make it again. As for the frosting, I'm not so sure.

That's it! Another challenge over…looking forward to the next month. Check out what my fellow DBers have been up to.