Hope all of had an enjoyable weekend. We had a cold and frosty one

For quite a while now, Rengoni has been complaining about blurry vision…"air dots", as she calls them. So, on Saturday, we whisked her away for an eye check up and she came back bespectacled.
She was, of course, excited about her new glasses, but it did break my heart. I know, the novelty will soon wear off. The next day, while I was talking to my ma, over the phone, she sighed " Oh! That's sounds so much like you!" Now, there's some reason behind her exclaiming so. You see, the li'l lady is quite a voracious reader.  She could spend every spare minute with books. And she also loves to write as well. Well, what's wrong with that?, you might ask? Aren't those suposed to be good habits? Well, yes, it is, and I have no complaints about that. But, she gets so engrossed with her reading and writing, that she gives very little attention to the lighting, thereby straining her eyes much more than necessary. I am usually running after her, cajoling her about it,adjusting the lights, but there are so many instances when I fail to do so. Like in the wee hours of the morning, when a book is the first thing she reaches out, or when she is goes to fetch something, comes across a book and sits down with it, and which seems to get closer and closer to her eyes, the more she is engrossed. And all that has  taken it's toll on her little eyes. Yes, all the above was exactly what I was moaning about, to my ma. Ma reminded me, how, I too, was exactly like that and was bespectacled early on. Like mother, like daughter? Oh! How I wished she wasn't , not in this instance !
But, the following carrot and pine nut cupcakes…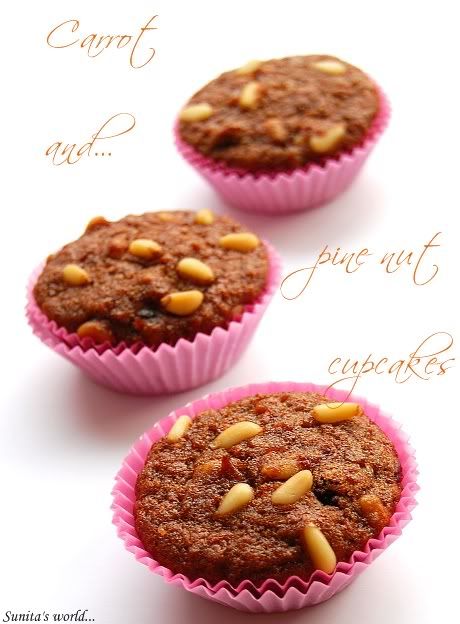 tell  a different story altogether. I have no complaints about them, nothing to moan about at all. Simple to make, and subtle in taste, they soon won us over. I actually came across a similar version for a carrot cake in an ancient bbc food magazine, many moons ago. I tweaked everything to suit our taste,making cupcakes instead of one large cake, replacing self raising flour with whole wheat, light muscovado sugar with the darker version, and adding pine nuts. I avoided frosting, and instead added a topping of nuts which added a nice bite. In other words, I took the inspiration, but made them with my own measurements, which are as follows-
What's needed-
4 tblsp of dark muscovado sugar
1/4 C of sunflower oil
2 eggs, lightly beaten
2 carrots, grated
grated rind of one large orange
3/4 C whole wheat flour (atta)
1 tsp baking powder
1/4 tsp bicarbonate of soda
3/4 tsp cinnamon powder
1/4 tsp ground nutmeg
2+2 tblsp of pine nuts
a small handful of raisins
How to-
Pre heat the oven at 180 deg C and line a cupcake tray.
Place the sugar, oil and eggs in  a bowl and mix lightly with a wooden spoon.
Stir in the raisins, carrots and 2 tblsp of pine nuts.
Sieve together the flour, baking powder, soda, cinnamon and nutmeg. Add to the egg mixture and fold in with a rubber spatula( do not over handle the batter at any point).
Fill the cupcake liners three fourths of the way (makes 9 -10 cupcakes) and sprinkle the rest of the nuts on top.
Place the tray in the centre of the pre heated oven and bake for 20- 22 minutes or till a toothpick inserted through the centre of a cupcake comes out clean.
Cool on the tray for a minute. Transfer the cupcakes to a rack and cool completely before storing in air tight containers…well, that is if you can resist biting into one while still warm
That's it! Aren't they simple to make? We did love them. They were soft and spongy, mildly sweet with a subtle flavour from the spices. The nuts also added a nice bite.
And since we loved these carroty treats and they were not overtly sweet, I am sending them over to dear Dee, who is guest hosting dear Meeta's Monthly mingle. The theme for this month is- Low sugar sweet treats.