The festive spirit is quite contagious, don't you think ? We hopped into our town centre over the weekend. As we do not celebrate Christmas, it was not that we had any last minute shopping to do; just needed a few regular things. The streets were all lit up and full of shoppers, faces flushed with the festive spirit. Somehow it reminded me of the atmosphere back home, during Durga Puja. I am not a crowd person, but somehow, I liked the spirit. As for the kids, they came back with flashing lightsavers and musical wands. Which makes me wonder as to why the manufacturers put in the most annoying music in the toys? Couldn't they put in something more pleasing to the ear, considering the fact that it will be played constantly!
My regular readers will know, by now, how much I love to bake. I try to bake, especially the cakes and cookies, with as much less fat, sugar and refined flour as I can, in many cases avoiding them altogether. With kids around the house, not to mention us, the adults, there are, indeed, cravings. We do not deprive ourselves, and I just make sure that the taste is good. And, that, does not necessarily mean lots of sugar and butter. I do bake quite a lot of cookies, and we hardly buy any. I make small batches of a particular kind, so that I can  keep changing the flavours.
One particular ingredient that I love while baking my cookies is oats. Apart from the nutritional benefits, I also love their nutty texture. The following spice and raisin cookies …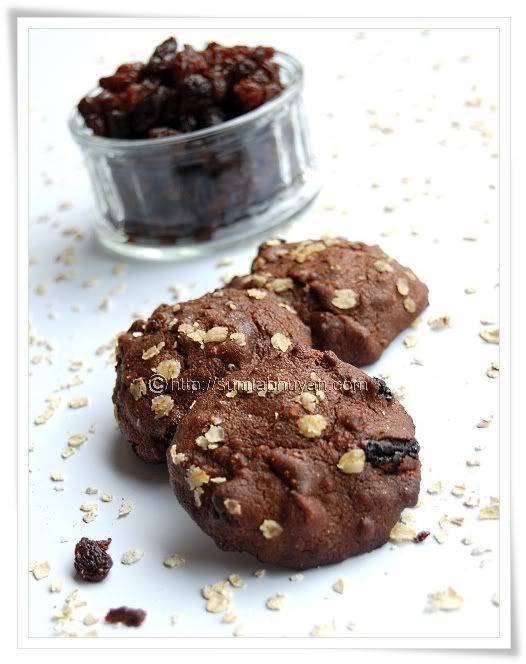 are another of those  to which I have added oats. These cookies with the addition of spices and molasses ( no extra sugar)  were another of those which quickly became our favourites.
What's needed-
1 and 1/2 C whole wheat flour (atta)
1/2 C oat flakes and a little extra for sprinkling
1/3 tsp bicarbonate of soda
3/4 tsp cinnamon powder
3/4 tsp ginger powder
1/2 C raisins
4 tblsp blackstrap molasses
7 tblsp of sunflower oil
3/4 C milk
1 egg
How to-
In a bowl, whisk together ther flour, oats, cinamon powder, ginger powder, soda and raisins.
In another bowl, whisk together the egg, milk, oil and molasses, in that order, whisking well afetr each addition.
Make a well in the centre of the flour mixture and tip in the milk mixture. Fold in, preferably with a rubber spatula.
Cover the bowl with a plastic wrap and chill for at least 3 hours.
Pre heat the oven at 170 deg C. line a baking tray with foil.
Drop heaped tsp fuls of the mixture onto the prepared tray, slightly apart from each other. Sprinkle a little oats over each.
Place the tray in the centre of the pre heated oven and bake for about 20-22 inutes or till the tops are firm to the touch.
Cool on the tray for a minute and transfer to a rack to cool completely before storing in air tight containers.
These cookies were soft and had an intense flavour, which we fell in love with. The spices added their touch. This one is going to be repeated  very often, I guess

Sending these cookies over to dear Sharmi for her Cookie baking event.