Hope all of you had a wonderful start to the New Year. It was just the four of us on New Years eve to usher it in. The following day, we had friends visiting us, and the day just flew by ( and most of the night too) amidst plenty of good – natured banter. And today, I realised that we are already on the second day of the new year. Time does fly by- clichéd, I know, but oh, so true!
As for new year resolutions, I don't make any. Somehow, they always tend to backfire. Over the years, I have come to believe that the best time to start anything is 'now'…I would rather not wait for another year. Taking each day as it comes is what works best for me.
On the weather front, we are still experiencing the bitter cold. Of course, it may not be as much, compared to what many of you are experiencing out there. But, you see, our region is comparatively milder than others. So the sharp fall in temperatures this year, have come as quite a surprise.
And in this cold, all that we are craving for is soup, soup and even more soup. The warmth from a bowl of colourful soup does wonders to brighten up an otherwise grey day.
A few days ago, I made a lovely roasted butternut squash soup.
I made it very casually, and so, won't be able to give you exact measurements. But, if you're interested, this is how I made the roasted butternut squash soup-
Chop 1 medium sized butternut squash and arrange it skin side down on a roasting tray.
Halve a head of garlic horizontally, place the halves in a piece of foil and drizzle a tsp of olive oil over it. Wrap it in the foil and place it one corner of the tray.
Drizzle the squash with olive oil, season with salt and freshly ground pepper, add a little crushed red chillies and sprinkle a couple of tablespoons of dried oregano.
Bake in the top rack of the oven at about 230 deg C till the flesh is quite soft (a knife can go easily through them). Keep tossing in between and basting with the juices.
Cool a while and remove the skins. Take out the softened cloves of garlic from the pouch.
Place the flesh and garlic in a pan  along with a few tablespoons of cream and some stock (add the stock as per your preference of thickness of the soup).
Check the seasoning and mix everything well together, mashing the squash well.
Place the pan over heat, and simmer for a couple of minutes.
Garnish with a little crushed red chillies and fresly ground pepper.
Now, I wanted something to accompany this glorious soup; some bread maybe, but there wasn't any, and there was too less time to make some. I rummaged through the fridge and realised that I had quite a bit of feta cheese. I had planned on making something, which I had very inconveniently forgot, so was determined to use it. The pack of rye flour was summoned, some cumin seeds were roasted and ground, and along with a few other ingredients, a dough was formed, which was later, turned into crackers.
And we loved those little crackers so much that I can't wait to share the recipe with you.
What's needed for the cumin and feta crackers-

1C rye flour
1C whole wheat flour(atta) +  little extra for rolling
1/3 tsp bicarbonate of soda
5 tblsp of extra virgin olive oil
1 tsp salt
1 tblsp cumin seeds, roasted and coarsely ground
150 gms of feta cheese
3/4 c milk
How to-
In a bowl, rub together the rye and whole wheat flour, soda, salt, cumin, oil and feta cheese with the fingertips, till the mixture resembles coarse crumbs.
Make a well in the centre of the mixture and tip in the milk. Quickly mix together till everything is moistened. Do not over mix, the ingredients should just come together, over mixing will make the crackers hard.
Wrap the sticky dough in plastic wrap and chill for about 45 minutes.
Divide the dough into 2 portions. Return one portion to the fridge and work on the other.
Pre heat the oven at 170 degC. Line a baking tray with foil. On  a well floured board, and with a floured rolling pin, roll out the portion of dough into a disc of about 9 inches in diameter. Cut out smaller discs of about 2 and 1/2 inches in diameter with a pastry cutter or with a lid. Gather the trimmings and repeat till all the dough has been used up.
Take out the remaining ball of dough and do the same.
Arrange the cut out discs on the prepared tray. I got 32 of them. Prick them lightly with a fork.
Place the tray in the centre of the pre heated oven and bake for about 22-25 minutes or till the tops are golden. They will puff up while baking and form little pockets.
Cool in the pan for a few seconds and transfer to a rack.
We had our crackers with the above soup and it was bliss.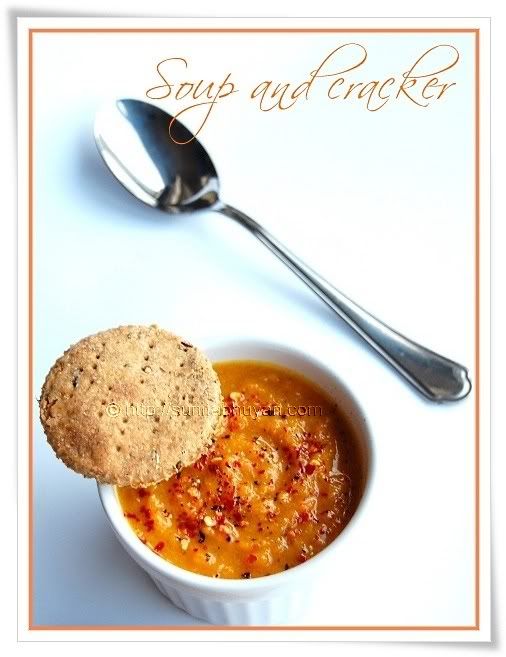 The crackers were great fun. They are quite the kid pleasers too. The li'l ones loved the little pockets in them.
Everyone was hungry, so I thought of taking a picture later, with the leftovers. But they were disappearing so fast, that I got up halfway and quickly clicked them. And all the while, two little people were hovering over the crackers. No sooner had I finished that they were eagerly lapped up. This was the last one, and the little lady wanted me to click it in her hand

These crackers would form  a wonderful healthy snack on their  own too, and I guarantee that you won't be able to stop at a few. As for me, I was happy to see the empty bowls and plates as I got up from the table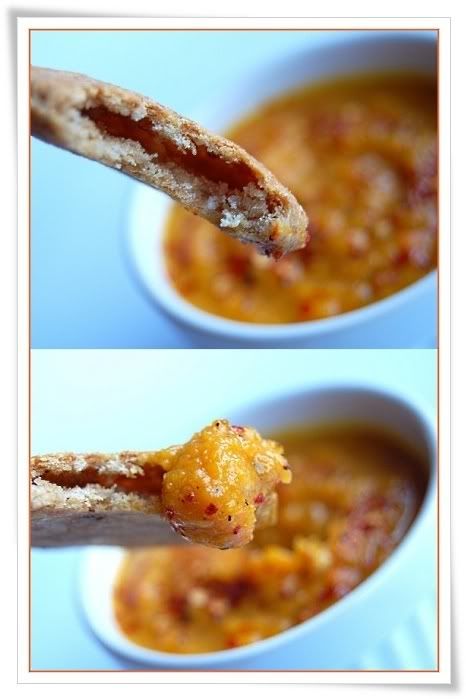 Have a great weekend!