Hope you had a great start to the week. The kids' school reopens tomorrow and the days of lazy mornings will be swiftly put to an end. But, we are more than ready for it. The last couple of weeks have been pure bliss in the company of the kids. Dinesh had a quite a few days off, which added to the pleasure. The days just flew by, and we are all rejuvenated enough to go back to the routine.
To enjoy the last day of the kids holidays, the three of us got into a bit of mess. No, nothing to worry about, we just got down to making their favourite  feta cheese and cumin crackers…yes, the same ones glorified in my last post. This time, with my two little helpers, and with flour flying everywhere, there was lots of laughter around. And, to make things even more fun, we cut  out the crackers with cookie cutters. As these were much smaller than the earlier ones, i reduced the baking time by a few minutes.
I love cooking with the children …answering their questions, the laughter, the mischievousness, the mess… yes, the mess!
Now coming back to the main recipe of the day…choco almond and banana cake.
I made this when we had some friends over for tea. It is very simple to put together, but the taste left us asking for more. This is probably my best ever banana cake till now…great with a cuppa.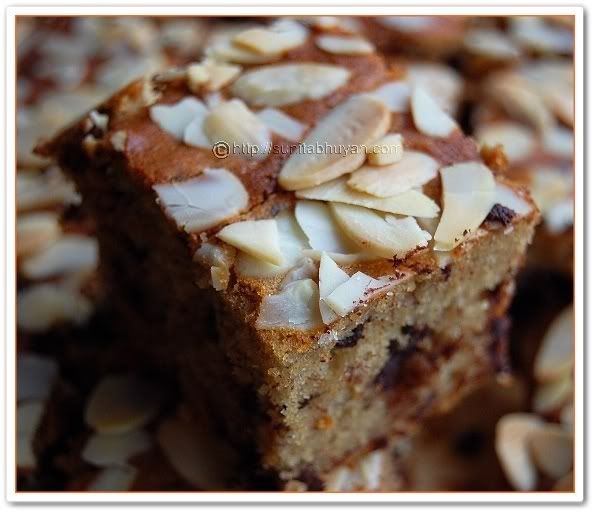 What's needed-
3 eggs
1 large ripe banana, roughly mashed
6 tblspns of honey
1C whole wheat flour (atta)
2 tsp baking powder
6 tblsp of vegetable or sunflower oil
1/2 tsp cinnamon powder
1/2 tsp vanilla essence
100 gms of dark chocolate, chopped
a handful of almond slivers
How to-
Pre heat the oven at 180 deg C. Line an 8 inch square pan with foil and grease it.
Beat the eggs for 30 seconds with an electric beater at medium speed.
Add the banana and honey and beat again till fluffy.
Add the oil and vanilla and beat for a couple of minutes more.
Sieve together the flour, baking powder and cinnamon powder.
Add the flour mixture, a few tblspns at a time, to the egg mixture. Gently fold in, preferably with a rubber spatula.
Add the chopped chocolate and fold in.
Tip the mixture into the prepared pan. Sprinkle the almond slivers on top.
Place the pan in the centre of the pre heated oven and bake for about 27-30 minutes or till th top is firm, slightly darker round the edges, and a toothpick inserted through the centre comes out clean.
Cool in the pan for a couple of minutes. Transfer to a rack and gently peel off the foil. Cool completely before cutting into 16 squares.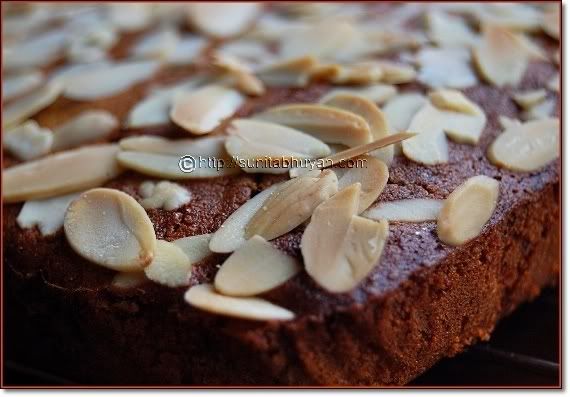 The smells that waft through the house while the cake bakes is simply divine.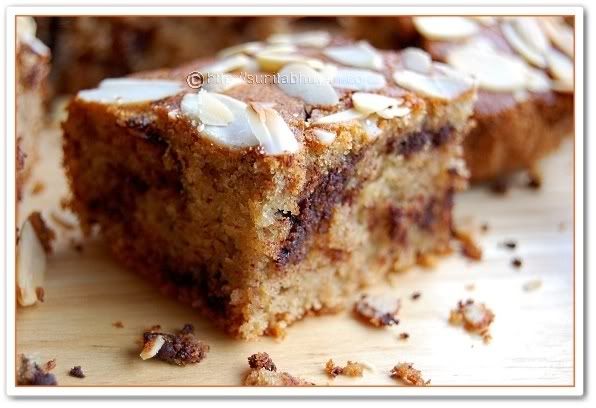 Our friends absolutely adored the cake and so did we. It was not too sweet, moist, and the nuts added a nice bite. Rengoni has already begun asking as to when I'm going to make it again…exactly the same! Now, that's the kind of comment, the ears love