First the cold…
Well, It's freezing outside… what do you expect, with sub zero temperatures! When me and the kids rode on our bikes to their school today, it was as if we were riding through a crystal wonderland. The thick fog, the frozen surroundings, standing still, seemed magical, and at times eerie too. Rengoni was spinning stories all the way to school about an enchanted land

I had tugged along my camera bag today while accompanying the kids to school…with the hope of taking a few pictures when I came back. I was about to change my mind as it was soooo cold. But the scene all around was too good to resist; and , although, by the end of the photo shoot my face and hands (inspite of the thick gloves) were numb, and I could probably dip my hands into hot water before I could feel anything, I couldn't stop smiling when I saw the pictures. Hope you enjoy looking at them as much as I did while clicking them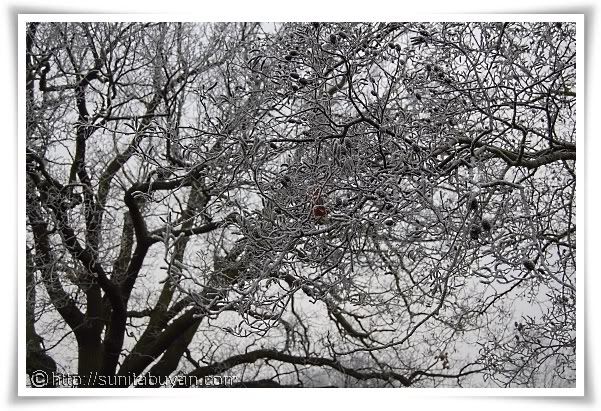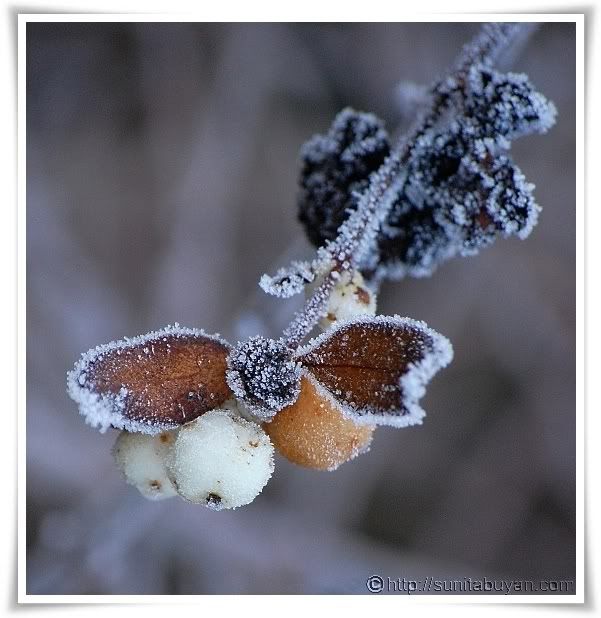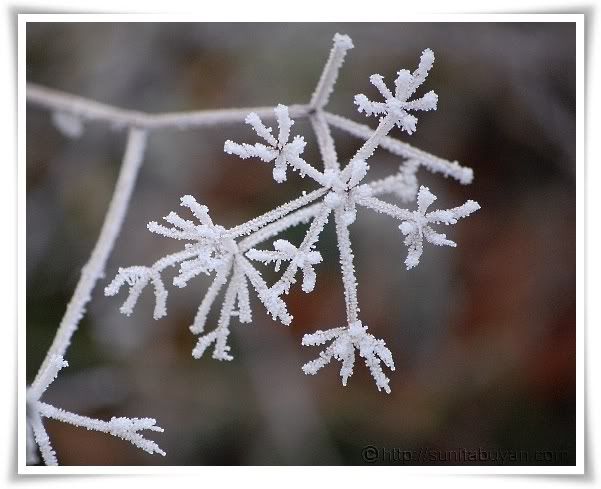 You've braved the cold…now you need something nice and warm. How about a cuppa with a few coconut, cinnamon and chilli cookies? These cookies are hot! hot! hot!
Sometimes, I find myself reaching out for the spices all too often during baking. This was one of those instances. This time I added a dash of chilli powder to my cookies on a whim, and we actually liked it. The following cookies have an intense flavour and the slight heat kicks in as you start to chew on them.
What's needed-
4 tblsp molasses (or dark brown sugar)
3 tblsp butter
1/3 C of water
5 tblsp of dessicated coconut
1 C whole wheat flour(atta)
1/2 C rye flour
1/3 tsp bicarbonate of soda
1 tsp cinnamon powder
3/4 tsp chilli powder (more or less)
For rolling-
dessicated coconut + granulated sugar( I used unrefined cane sugar) mixed together in a bowl (about 1C altogether)
How to-
Mix together the flours, soda, cinnamon, chilli and coconut.
In a  small pan, add the molasses,butter and water. Place over heat, and stir continuously till well mixed and melted. Remove from heat and cool for two minutes.
Make a well in the centre of the flour mixture and tip in the liquid mixture.
Fold in, preferably with a rubber spatula, till everything is moistened. Do not over mix.
Cover the bowl with plastic wrap and chill overnight or till quite firm .
Pre heat the oven at 170 deg C. Line a baking tray with parchment.
Make about 27 balls of the mixture. Slightly flatten between the palms of your hand and roll in the coconut-sugar mixture.
Arrange them on the prepared tray in rows, leaving spaces between them.
Place the tray in the centre of the pre heated oven and bake for about 20-23 minutes or till the tops are firm and slightly cracked.
Cool in the tray for a minute and transfer to a rack to cool completely before storing.
These cookies were delightfully crunchy with an intense flavour and a slight heat. The coconut added to the delight. Perfect with a cup of tea or cofee or with a glass of milk…and for those like me, who do not favour any of the above, just have the cookies on their own

The li'l guy holding up a piece…
Have a great weekend everyone