It's been a long day today. The weather was grim and wet…the wind was threatening to blow away my umbrella any minute. There were plenty of deadlines to meet, the mind was all muddled up with facts and tasks to be done. And before I even realised it, dinner time was looming ahead of us. The li'l guy was already expressing his hunger with tragic undertones.
The fridge was cluttered with bits and bobs of this and that vegetables, and I hastily summoned them , stiffling a yawn at the same time. A few tortillas, saved from earlier, came to the rescue as well. After some slicing, tossing and wrapping, dinner was ready. And what exactly was it? Vegetables and feta wraps.
These wraps are real life savers…easy to assemble, filling, and topping in the taste department.
What's needed-
To be thinly sliced into about 2 and 1/2 inches long-
2 carrots,1 red pepper and 1 small cucumber
3-4 cloves of garlic, finely chopped
200gms of feta cheese, cubed
a handful of cashew nuts
2 tblsp sun-dried tomato paste
1 tblsp extra virgin olive oil
2 tblsp Italian seasoning
salt and freshly ground pepper to taste
8 tortillas
How to-
Heat the oil in a pan.
Add the carrots, red pepper, garlic, cashews, Italian seasoning, sun-dried tomato paste and freshly ground pepper.
Stir constantly over medium to high heat till the carrots very slightly soften, but still retain their crunch…just a few minutes will do.
Season with salt, stir again to evaporate most of the moisture, but do not make it completely dry.
Remove from heat and cool for a couple of minutes.
Add the cucumber and the feta cheese and toss well. The cheese will lose it's shape a little. This actually adds to the taste.
Heat the tortillas according to packet instructions ( You can also make them yourself like this ).
Divide the vegetable and cheese mixture  into 8 portions. Spoon into the centre of each tortilla and roll to form wraps.
Serve hot or cold.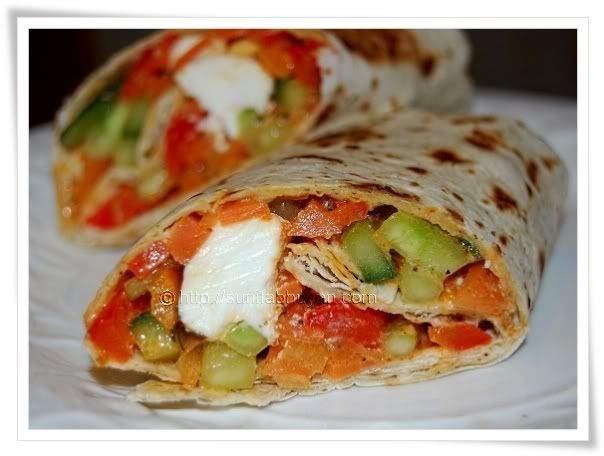 The wraps worked really well. Biting into the soft tortillas to reach the crunchy filling with a slight tang from the tomato paste did feel nice. Adding the warm vegetables to the cool cheese makes the latter lose its shape and infuse it's creaminess  into the mixture. These wraps are quite filling and also ideal for picnics and in lunch boxes too.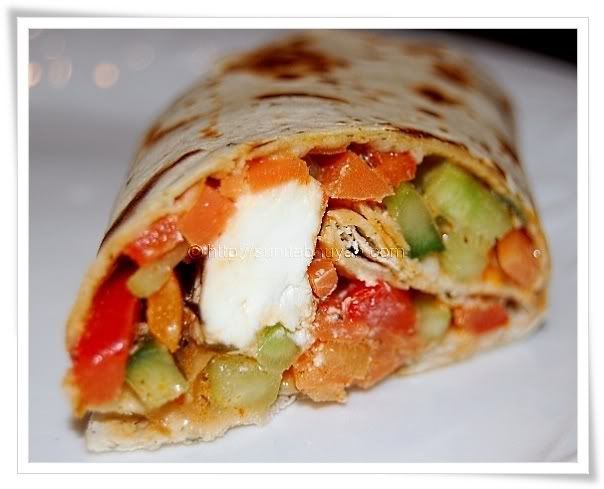 There! Dinner's done, blog post's done ( the pictures do not do justice, but that's all I could manage with droopy eyes:-( ), and  now I'm off to bed, before my eyes close and my head hits the keyboard!