Today's recipe came about from a sudden urge for something sweet. A few nights ago, Rengoni and Agastya were already in bed, and Dinesh and I were staying up after dinner. Dinesh was ransacking the kitchen for some afters and somehow I felt the urge too. Well, I am always ready for something sweet. I have to tell myself off many a times because of this tendency. But, in this instance, I couldn't stop myself. I had been good for quite a few days now, and the urge was too much to be ignored. So, I immediately offered to do something about it.
I had bought some dark chocolate a couple of days ago to make something and I still had some left. There was also some ground almonds left over from last months Daring bakers' challenge, and this was summoned too. And I also happened to have some very thick cream. Amazing, how, sometimes, you can find all the ingredients at hand, just lying there, as if waiting to be combined into something delectable…it was destiny, I suppose! I couldn't stop grinning. With a little honey, all the other ingredients were combined and the following mini chocolate pots were brought into existence. They are so simple to make and taste yum too.
How to-
100 gms of dark chocolate, very finely chopped
150 mls of very thick double cream
4 tblsp of honey ( or as per taste)
5 tblsp of ground almonds+ a little extra for topping
1/2 tsp vanilla essence
How to-
Mix together the chopped chocolate and ground almonds in a bowl.
In a small pan, place the cream and honey and mix together.
Place the pan over heat and bring the contents to just near boiling, stirring constantly.
Remove the pan from heat and pour the contents over the chocolate mixture along with the vanilla.
Leave for a few seconds and then whisk vigorously till everything is smooth.
Spoon into ramekins ( I got about nine of them in mini ramekins which could hold just about 2 tblsps of the mixture) and leave till cool and set.
Sprinkle a little ground almonds on top and enjoy!
I must say, both of us were quite impressed by these little pots. The chocolate was a delight  I saved the rest for the next day for all of us to enjoy. I had made very small helpings, as the combination, even without sugar can be quite explosive. And, after all, good things do come in small packages, don't they?

They are so simple to make and taste yum too.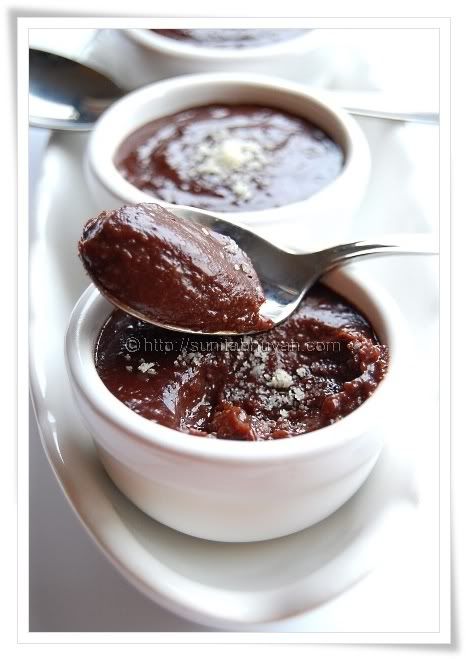 Wishing all my Indian readers a very happy Makar Sankranti/Pongal/Magh~(Bhogali) bihu( for us)