Pulao is something that I make quite often. The versatility of the dish comes in very handy when I want a quick and wholesome one pot meal. And the best thing about it is that one can make it as light or as rich as one wants, vegetarian or non vegetarian; add as many vegetables or just a few; very spicy or mild; want to add some nuts and dried fruits…you can do it any way. I'm sure many of you must have your own favourites and tips.
Although I do make the odd chicken pulao, I usually keep it quite simple and add an assortment of vegetables to mine. The colourful vegetables make the dish very pleasing to the eyes. With today's spinach-cashew pulao, however, I have taken a bit more effort and added a ground mixture to make it a bit more indulgent than my regular quickie vegetable pulao. The ground greens, nut and spice mixture added a good deal of oomph to the dish, and was, a nice change from the usual.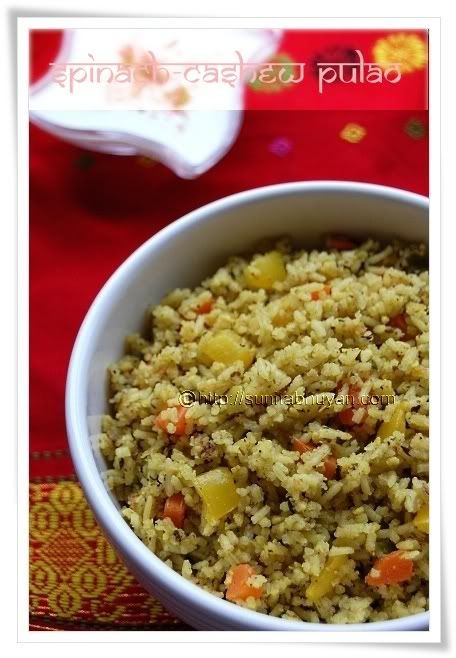 I have used oil, but if you want to indulge further, you can use ghee or butter instead.
What's needed-
2C basmati rice,
1 C cubed (small) carrots
1/2 C cubed (small) yellow pepper
salt to taste
3 and 1/2 C water ( may need more later)
2 tblsp of oil
salt to taste
To be ground together to a thick, rough consistency with 3 tblsp of water-
1C spinach leaves
a small bunch of coriander leaves
1/2 C cashew nuts
2 green chillies (or according to taste), halved
1 small onion, chopped
3 cloves of garlic, peeled and halved
For tempering-
1 whole red chilli, halved
1 tsp cumin seeds
2 bay leaves
Spice powders-
1/2 tsp turmeric powder
1tsp cumin powder
1 tsp garam masala powder
How to-
Heat oil in a thick bottomed pan.
Add the ingredients for tempering. When the seeds begin to sizzle, add the carrots and yellow pepper and stir for about 30 seconds.
Add the spinach mixture and stir constantly over medium heat for about a minute.
Add the rice and the powdered spices, salt and stir well, scraping the bottom of the pan to avoid burning. Do this for about 3 minutes.
Add the water, stir and bring to a boil. Reduce the heat to low, cover and cook till the rice is done. If the water gets dissolved before the rice is cooked , add a little more water, a little at a time. On the other hand, if the rice gets cooked before all the water is dissolved, increase the heat and stir till dry.
Remove from heat, cover and let the pulao rest for at least 5 minutes.
Serve hot with some raita or plain yogurt.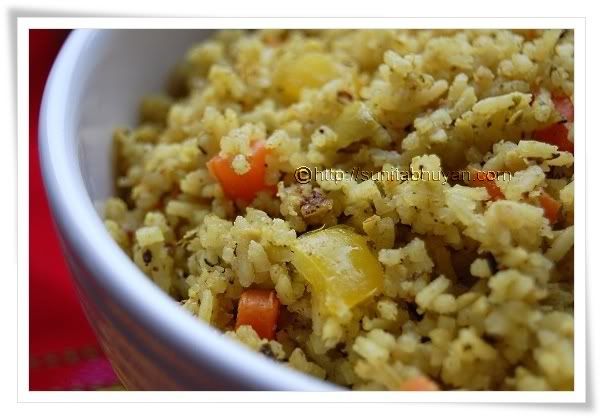 We had ours with some spiced yogurt,
and yes, it was a delightful change from my regular one..loved every bit.
How do you like your pulao?
Enjoy your weekend!