Moromor aita ( pronounced 'aye-ta' )…dear grandma…yes, grandmas , or as we, in Assamese say, aita, are very dear, aren't they? I haven't had the pleasure of ever meeting my deuta's(father's) ma, but I feel lucky to still have my ma's ma! And isn't she the dearest person ever!
Last weekend, I was talking to my ma, back in Assam, and she sounded so happy, so excited. The reason, she and three of her sisters (two couldn't make it) were at my aita's place. They were there to celebrate an important occasion for the family . But what was even more exciting was the fact that aita had six of her eight children ,including my two mamas(ma's brothers) around her, at the same time, which is quite rare . Aita sounded ecstatic too..the house reverberated with laughs and stories and leg pulling and reliving memories.
When I talked to aita, that day, over the phone, I could almost  see the smiles on her small, bright, wrinkled face. I could almost see her bustling about the house, especially about the kitchen, as she always does, even now at her age, rustling up one delicacy after another. I could almost see myself watching her, with wonder, chopping those vegetables, and oh, so artfully, that each piece would probably, perfectly fit on top of another. I could see her every now and then trying to join in with her girls, now mothers themselves, and one (my ma) , who was even an aita herself. I could almost see her daughters trying to pull her leg, and aita, giggling, and not minding it at all. I could almost see her looking proudly over her brood, like a mother hen, as if they still needed looking after. Ma mentioned how aita was already fussing over her that she had lost weight and trying her best to fatten up her eldest child in the few days that they shared. And of, course, ma didn't mind the fuss too. I can also see the wistfulness and mist in her eyes, as she remembers my late koka deuta (grandfather), who expired quite a few years ago.
Rengoni and Agastya love to hear tales about their  aju aita (great grandma). When I was talking to her that day, over the phone, Rengoni asked me if aju aita had recovered. You see, a month ago, she had a fall and was in  a very serious way. But, ma said, there was hardly any sign of it…one wouldn't even realise if not told about it. She was her usual,  active self. Actually, god bless her, aita's falls are quite a joke in the family…she has probably had the most number of falls and fractures than any other person that I've known. Not they are capable of keeping her in bed for long, though…she literally has to be forced to do that.
I longed so much, to be there, by her side, laying my head on her lap, while she stroked my hair. I longed to listen to her stories, teasing her at times, longed to take in the wonderful aromas from her kitchen, which we thought was quite magical, when we were young. We talked over the phone,for quite a while, that day. Aita wished us, and like always, gave us her blessings and mentioned , quite proudly, how we were, after all, a part of her, a branch of the tree that she was, and that wherever we may be, a part of her will always be with us…I could not agree more. When Rengoni was on the phone, I realised that there we were, four generations of women, separated by oceans and lands, talking to each other, all bound by a common thread. Amazing, this thing called 'family' is, isn't it ?
After all this talk of familiar lands, it is only fair that today's recipe is an Assamese speciality…'Saru maas diya adar jool'( Small fish in  a light ginger gravy).
The Assamese are great fish lovers….proximity to the mighty river Brahmaputra is probably the main reason. The fish curries that we make usually have a light, soupy consistency, but are packed with fresh, natural flavours. Fish, both big and smaller varieties are found in plenty. With the smaller variety, dishes like the one mentioned above are quite popular. They are  made in relatively small quantities, as a side dish, to accompany plain rice, dal and vegetables.
The kind of small fish that we use in the UK to satisfy those cravings, are called sprats. Back home, before putting the fish in the curry, they are always pan fried. This time, just on the spur of the moment, I popped the sprats in the oven, and they came out beautifully crisp as ever, and that too , without any oil at all. They make for lovely, crispy snacks too.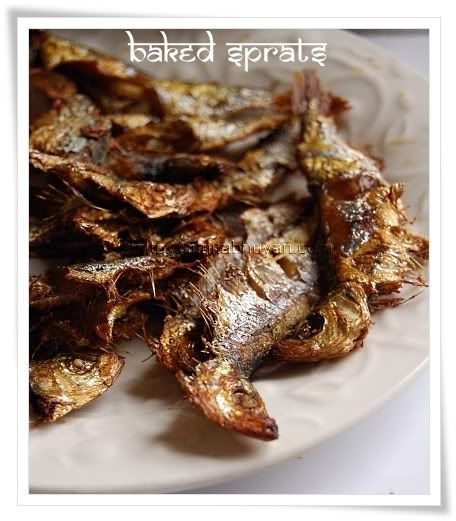 I will mention both the ways below…
What's needed-
10-12 sprats or any other small fish, gutted and washed
1C water ( may need more)
1/2 tsp +1/4 tsp turmeric powder
1/4 tsp salt + extra for seasoning the gravy
1 tsp cornflour (level) mixed with 2 tsp water
1 bay leaf
1 whole red chilli, halved
1/2 tsp of paas puron
2 and 1/2 inch piece of ginger, peeled and smashed
1 tsp of mustard oil + extra for shallow frying the fish
How to-
Heat the oil in a pan. Rub the 1/4 tsp of salt and 1/2 tsp of turmeric powder over the fishes and shallow fry them in the hot oil.(If you want to bake, rub them with the salt and turmeric; arrange in a single layer on a baking tray, lined with foil ; place the tray in the top rack of a pre heated oven (220 deg C) and bake till nice and crisp; turn over once)
Heat the 1 tsp of mustard oil. If you're frying the fish, use some from the remaining oil.
Add the paas puron, bay leaf and chilli halves. When the seeds splutter, add the ginger and 1/4 tsp turmeric powder and fry over medium heat, stirring constantly for a few seconds or till the ginger begins to leave it's wonderful aroma. Do not let it burn though!
Add the water, cornflour mixture, salt and stir well, to remove any lumps. Bring to a boil. Simmer for a few seconds.
Lower the heat and add the fish. Simmer for about a minute so that the gravy is infused into the fish…the later will soften. Add a little more water if necessary…the gravy should be quite light.
Serve hot.
That's it! Very easy to make, but with beautiful flavours. If you're a vegetarian and would like to enjoy this curry, you could add some small dalir bor /bora ( red lentil fritters) to the gravy. We had our jool with plain rice, dal and labra ( a mixed vegetable dish). Of course, it would probably not match my aita's culinary skills, but it did not do that bad either

On another note,
The February edition of Think spice is being being guest hosted in Greece by dear Ivy . Think spice is a nice way to know more about regular spices and also to discover unusual ones along the way. Ivy  wanted to choose mastic gum, which is unique to Greece. But, as we were not sure whether the spice would be available in any other part of the world, and at the same time did not want to leave out an unique spice, I have made an exception and allowed two spices to be featured in this edition…mastic gum and fennel seeds So, next time you Think spice, think twice. Head over to Ivy's to read more of the rules.
Have a great weekend everyone!